Persaud calls for Matthias' resignation
Guyana Football Federation (GFF) vice president Ivan Persaud is calling for the resignation of GFF president Christopher Matthias.
In a letter addressed to Matthis and carbon copied to GFF General Secretary Noel Adonis, Persaud said that he was asking his president to put aside his pride and resign from the post. Persaud said that Matthias'"authoritarian and dictatorial administration" of the sport has led to strained relations within the executive.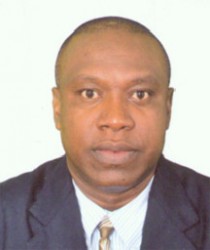 Persaud said he will no longer attend meetings of the GFF until a proper Congress is held. "You would have noticed that from time to time I have opposed your style of leadership. However, your most recent actions with the Upper Demerara Football Association (UDFA) and the Bartica Football Association (BFA), seems from a glance, to be unconstitutional, and as much, I can no longer continue to attend your meetings until a proper Congress is held and the situation with the two Associations, already mentioned, return to the status quo. Then and only then I will attend meetings of the Executive of the Guyana Football Federation (GFF).
Persaud said that he planned to seek redress  at a higher level if an adequate response was not received in 24 hours.
"Finally, notice is given that if an adequate response to this letter is not forthcoming within Twenty-Four (24) hours upon receipt of same, I will have no alternative than to seek redress at a higher forum." When contacted by Stabroek Sport last evening Matthias in a brief response said:"We are fully aware of the missive of Mr. Persaud and his accomplices and the GFF will respond shortly."
Below is the full text of Persaud's letter.