AUCKLAND,  (Reuters) – New Zealand's pace attack ripped through India's top order to reduce the tourists to 45 for three at tea on the second day of the first test at Eden Park last night after Brendon McCullum's 224 propelled them to an impressive first innings total of 503.
Trent Boult captured two wickets in the first over of India's reply, snaring Shikhar Dhawan and Cheteshwar Pujara to catches behind the wicket to leave the visitors 3-2.
Tim Southee then chipped in with a vicious bouncer that caught Virat Kohli's gloves and Peter Fulton held the head-high catch at second slip to reduce them further to 10-3.
Murali Vijay (22 not out) and Rohit Sharma (16) were given the task of resurrecting India's innings and while they suffered some nervous moments, managed to take the visitors through to tea.
New Zealand's bowlers had been given a superb target to attack courtesy of McCullum's second double century in tests.
The captain's dismissal ended New Zealand's innings and was just one run short of his highest test score of 225, also against India in 2010.
Attempting another six to add to the five in his 307-ball innings, McCullum was out courtesy of some skilful fielding from Ravindra Jadeja. Jadeja caught the ball near the boundary and threw it back into the field of play as he overstepped the rope, then stepped back in and re-took the catch.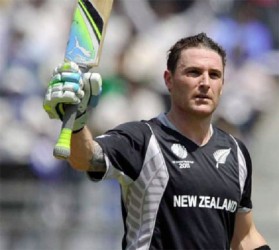 McCullum's innings was the highest by a New Zealander at Eden Park and fourth highest overall. England's Wally Hammond holds the record of 336 not out in 1933.
India pace bowler Ishant Sharma, who had been under pressure after poor form in the one-day series, was the pick of the visitors' bowlers with 6-134.
India's reply began terribly with a fired up Boult and Southee harrying their batsmen from the first over.
Boult gave his side a huge boost when Dhawan wafted at a ball outside off stump and it flew to Kane Williamson at gully.
The left-arm paceman then tempted Pujara to chase a wide delivery on the final ball of the over and was easily caught by wicketkeeper BJ Watling.
Southee, who had been peppered by India's pace bowlers earlier in a cameo innings of 28, unleashed a delivery that reared towards Kohli's throat and the righthander could only nick the ball behind off his gloves.
India won the toss and chose to bowl
 Scoreboard
New Zealand first innings (overnight 329-4)
P. Fulton lbw b Zaheer 13
H. Rutherford c Rahane b I. Sharma 6
K. Williamson c Dhoni b Zaheer 113
R. Taylor c Jadeja b I. Sharma 3
B. McCullum c Jadeja b I. Sharma 224
C. Anderson lbw b I. Sharma 77
BJ Watling c Dhawan b I. Sharma 1
T. Southee b Shami 28
I. Sodhi c R. Sharma b I. Sharma 23
N. Wagner c Kohli b Jadeja 0
T. Boult not out 1
Extras: (w-5, lb-5, b-1, nb-3) 14
 Total (all out, 121.4 overs) 503
Fall of wickets: 1-19 2-23 3-30 4-251 5-384 6-398 7-434 8-490 9-495 10-503
Bowling: Shami 28-6-95-1 (w-2), Zaheer 30-2-132-2 (w-1), I. Sharma 33.4-4-134-6 (w-2, nb-3), Jadeja 26-1-120-1, Kholi 1-0-4-0, R. Sharma 3-0-12-0
– –
India first innings
S. Dhawan c Williamson b Boult 0
M. Vijay not out 22
C Pujara c Watling b Boult 1
V. Kohli c Fulton b Southee 4
R. Sharma not out 16
Extras: (nb-1, b-1) 2
 Total (for three wickets, 18 overs) 45
Fall of wickets: 1-1 2-3 3-10
Still to bat: Ajinkya Rahane, MS Dhoni, Ravindra Jadeja, Zaheer Khan, Mohammed Shami, Ishant Sharma.
Bowling: Boult 6-0-13-2 (nb-1), Southee 7-3-11-1, Anderson 2-0-9-0, Wagner 2-0-10-0, Sodhi 1-0-1-0
Comments

A resurgent Guyana Amazon Warriors side completed a comprehensive seven wickets victory over the out-of-sorts St Lucia Stars to cruise to their second consecutive home win in the Caribbean Premier League (CPL) at the Guyana National Stadium, Providence, last evening.

BARCELONA,  (Reuters) – Barcelona are suing Neymar for 8.5 million euros ($10.00 million) for breach of contract as they want him to return the bonus he was paid when he signed a new five-year deal just nine months before joining Paris St Germain, the Spanish club said yesterday.
(Reuters) – Cristiano Ronaldo will have to serve his five-match ban for pushing a referee after the Spanish sports court (TAD) rejected Real Madrid's appeal against the length of the suspension, Spanish media reported yesterday citing court officials.

A 90th+3 minute strike secured Western Tigers a 1-1 draw with Georgetown Football Club (GFC), when the Corona Beer Invitational Football Championship continued on Monday at the GFC ground, Bourda.

Despite concluding the CONCACAF u15 Boys Championship with only one victory from four matches, Guyana Football Federation (GFF) President Wayne Forde said, he is delighted with the team's overall performance.