(Reuters) – Kumar Sangakkara became only the second cricketer to hit a triple century and a hundred in the same test as Sri Lanka set Bangladesh a huge target of 467 to win the second and final match in Chittagong yesterday.
Sangakkara, who struck his maiden triple century in the first innings, hit a six off Sohag Gazi to reach three figures in the second and emulate former England opener Graham Gooch's 1990 feat against India at Lord's.
The 36-year-old left-hander was then bowled by the off-spinner's next delivery as he attempted to sweep on the fourth day.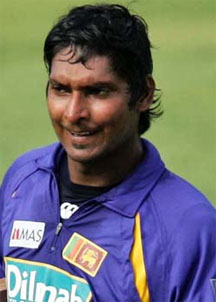 Sangakkara's fluent 144-ball knock included 11 fours and two sixes. His tally of 424 fell just short of Gooch's record of 456 for most runs in a single test.
His partner in a fourth-wicket stand of 145, Dinesh Chandimal, struck his third test century as Sri Lanka declared on 305 for four half an hour just before the close.
Bangladesh openers Tamim Iqbal and Shamsur Rahman then survived eight overs to leave their side on 12 for no wicket.
Earlier, the home team resumed on 409 for eight but folded for 426 with spinner Ajantha Mendis claiming the last two wickets to finish with six for 99.
Scoreboard
Sri Lanka first innings 587
Bangladesh first innings (overnight 409-8)
Tamim Iqbal b Lakmal                                                 0
Shamsur Rahman b Mendis                                106
Imrul Kayes b Mendis                                           115
Mominul Haque lbw b Perera                             13
Shakib Al Hasan c Karunaratne b Perera        50
Mushfiqur Rahim c Silva b Perera                  20
Nasir Hossain c Chandimal b Mendis             42
Mahmudullah c Silva b Mendis                       30
Sohag Gazi lbw b Mendis                                     0
Al-Amin Hossain b Mendis                                9
Abdur Razzak not out                                          11
Extras (b-8, lb-1, nb-21)                                     30
Total (all out)                                                      426
Fall of wickets: 1-0 2-232 3-252 4-259 5-319 6-350 7-396 8-396 9-409
Bowling: Lakmal 25-6-70-1, Pradeep 15-2-96-0 (nb-13), Mendis 29.5-3-99-6 (nb-8), Perera 39-4-119-3, Mathews 11-1-33-0
Sri Lanka second innings
Dimuth Karunaratne c Hossain b Mahmudullah        15
Kaushal Silva lbw b Mahmudullah                                   29
Kumar Sangakkara b Gazi                                                 105
Mahela Jayawardene lbw Shakib                                     11
Dinesh Chandimal not out                                               100
Angelo Mathews not out                                                     43
Extras (lb-2)                                                                                2
Total (for 4 wickets declared)                                     305
Fall of wickets: 1-36 2-49 3-78 4-223
Bowling: Al-Amin Hossain 7-1-31-0, Sohag Gazi 18.5-1-87-1, Shakib Al Hasan 22-2-80-1, Mahmudullah 18-4-46-2, Mominul Haque 7-0-46-0, Nasir Hussain 3-0-13-0
Bangladesh second innings
Tamim Iqbal not out                                          7
Shamsur Rahman not out                                 4
Extras (b-1)                                                             1
Total (for no wicket)                                      12
Bowling: Lakmal 3-0-9-0, Perera 4-3-1-0, Mendis 1-0-1-0
– –
Sri Lanka lead series 1-0
Comments

The Windward Islands Volcanoes booked their place in the final versus the Barbados Pride after beating the Guyana Jagaurs by 52 runs (D/L Method) in the rain affected second day/night semi-final of the Cricket West Indies Regional Super50 on Thursday at the Coolidge Cricket Ground.

Guyana Football Federation (GFF) President Wayne Forde yesterday acknowledged that he is aware of the letter signed by 17 referees demanding the removal of Head of the Referees Department, Stanley Lancaster.
Qwedada Fraser smacked 12 sixes on her way to an unbeaten 88, the highest individual score of the tournament so far, to lead Patentia Secondary to victory over L'Aventure Secondary in the female division of the 27th Annual Easter Term Windball cricket tournament.

Titans Table Tennis Club will serve off their inaugural Banks Smalta Supreme Junior Table Tennis tournament tomorrow morning at 9:00 hrs, at the Queen's College Auditorium, on Camp Road.

East Bank Cricket Association won the Demerara Cricket Board (DCB) Under-17 Inter-Association Tournament after beating West Demerara by 61 runs, yesterday at the Georgetown Cricket Club Ground, Bourda.