PORT OF SPAIN, Trinidad, CMC – Trinidad & Tobago produced an all-round clinical display to beat Combined Campuses & Colleges (CCC) by seven wickets and advance to the semi-finals of the NAGICO Super50 Regional cricket tournament at the Queen's Park Oval yesterday.
The victory was a dress rehearsal of sorts for the home team which could face either Jamaica or Guyana in the semi-finals beginning on Wednesday.
CCC won the toss and decided to bat on a placid Oval pitch. Captain Steven Jacob's decision to take first knock quickly backfired as they found it difficult to get runs and lost wickets and quick intervals.
They were rocked by some very good bowling, led by the unexpected hero and man-of-the-match Jason Mohammed who finished with 3-19. Dwayne Bravo also took 3-19 as Trinidad & Tobago restricted CCC to 98 runs.
Only Raymon Reifer (27), Kyle Mayers (19) and Anthony Alleyne (18) put up any reasonable resistance to the T&T bowlers.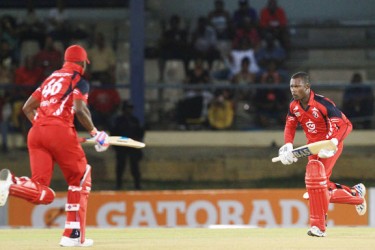 Trinidad & Tobago, set 99 for victory, cruised home to victory but not after losing two batsmen in succession and then found a desperate CCC who turned on the pressure with some tight bowling.
Lendl Simmons and Evin Lewis opened the batting and put on 65 for the first wicket. Lewis was nearing a half century when he skewed a short into the hands of Shacaya Thomas at backward point for 44 off 27 balls including seven fours and two sixes.
Darren Bravo then joined Simmons, who took the bowlers to task, adding another 19 runs before he attempted a sweep which bottomed edge unto his stumps for a well played 38.
Adrian Barath faced 11 balls for only one run when he gave a leading edge to Jacobs' delivery who took an easy catch.
Trinidad & Tobago were five runs away from victory but CCC were still in a fighting mood until Jason Mohammed hit the winning runs, finding the gap between cover and point for a boundary and the victory.
Mohammed, who remained unbeaten on five, was named man-of-the-match. Darren Bravo was also not out on five as T&T secured their second victory in three matches and marched into the semi-finals.
The winner of Monday's final preliminary match between Barbados and the Leeward Islands will determine the group winner and the fourth and final semi-finalist.
Jamaica and Guyana have already qualified for the round of four which begins on Wednesday.
Summarised Scores:
CCC 98 all out (44.2 overs) Raymon Reifer 27, Kyle Mayers 19, Anthony Alleyne 18; Dwayne Bravo 3-19, Jason Mohammed 3-19
T&T 100-3 (16.2 overs) Evin Lewis 44, Lendl Simmons 38; Akeem Dewar 1-9, Kavem Hodge 1-16, Steven Jacobs 1-16.
Scoreboard
Toss: CCC, who chose to bat
CCC 98 all out (42.2 overs)
Chadwick Walton+ lbw Rampaul                     2
Anthony Alleyne c Ramdin b Mohammed    18
Kyle Corbin b DJ Bravo                               6
Raymon Reifer run out (DJ Bravo)     27
Steven Jacobs* b Mohammed                  3
Floyd Reifer c & b Mohammed              7
Kavem Hodge c Ramdin b DJ Bravo      2
Shacaya Thomas lbw DJ Bravo               1
Kyle Mayers b Emrit                               19
Akeem Dewar c Ramdin b Narine           2
Kesrick Williams not out                            1
Extras: (lb 5, w 5)                                   10
Total (10 wkts; 42.2 overs)                    98
Fall of wickets: 1-10, 2-29, 3-30, 4-42, 5-66, 6-72, 7-72, 8-73, 9-81, 10-98
Bowling: Ravi Rampaul 7-2-18-1 (1w), Dwayne Bravo 10-4-19-3 (2w), Sunil Narine 10-2-14-1 (1w), Jason Mohammed 10-1-19-3 (1w), Rayad Emrit 7.2-0-23-1
T&T 100-3 (16.2 overs)
Lendl Simmons b Dewar                        38
Evin Lewis c Thomas b Hodge               44
Darren Bravo not out                                5
Adrian Barath c & b Jacobs                     1
Jason Mohammed not out                       5
Did not bat: Dwayne Bravo*, Denesh Ramdin+, Rayad Emrit, Sunil Narine, Ravi Rampaul, Kevon Cooper
Extras: (b 4, lb 1, w 1, nb 1)                     7
Total (3 wkts; 16.2 overs)                     100
Fall of wickets: 1-65, 2-94, 3-95
Bowling: Kyle Mayers 2-0-17-0, Kesrick Williams 4-0-26-0 (1w), Steven Jacobs 4-1-16-1, Raymon Reifer 1-0-11-0, Kavem Hodge 2-0-16-1, Akeem Dewar 3.2-1-9-1 (1nb)
Result: T&T won by 7 wickets
Man of the match: Jason Mohammed (T&T)
Umpires: Nigel Duguid, Gregory Brathwaite
TV Umpire: Patrick Gustard
Fourth Official: Lyndon Rajkumar
Match Referee: Michael Ragoonath
Comments

BASSETERRE, St Kitts, CMC – Batsman Emmanuel Stewart returned from West Indies Under-19 duty to immediately stamp his authority, as he steered Windward Islands to a convincing seven-wicket victory over Jamaica in the opening round of the Regional Under-19 one-day championship here yesterday.

(ESPNCRICINFO) For the first 37 overs of the game, St Lucia Stars were ahead and cruising.

The Guyana Amazon Warriors yesterday visited the St. John's Bosco Boys Orphanage at Ben Profitt Drive, Plaisance, East Coast Demerara.

LONDON, CMC – Head coach Stuart Law has praised the character of Test captain Jason Holder and says he could be an effective leader over the next decade in West Indies cricket.

LONDON,  CMC – Team manager, Joel Garner, has warned pundits to write off West Indies "at their own peril" as the Caribbean side gear up for the opening Test of the three-match series against England starting tomorrow.