Kuru Kuru and Philadelphia Primary Schools topped their respective zones while Craig and Diamond Primary Schools recorded victories in latest round of matches of the Scotiabank Kiddy Cricket Festival.
In matches played in the Highway zone at Dora Ground, Kuru Kuru Primary, the eventual champions, defeated Long Creek Primary to set up the final against game two winners' Kuru Kururu.
In the first game Kuru Kuru defeated Long Creek Primary by eight runs.
Batting first, Kuru Kuru scored 172-3 from their 10 overs with Nkossi Morris 16 and Terrence Baird 14, the top scorers.
Rayon Katou and Rhondell Katou took a wicket each. In reply Long Creek reached 164-5 from their 10 overs. Rayon Katou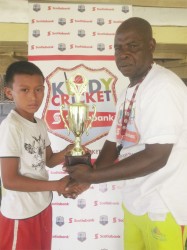 top scored with 23 while skipper Ming Wong grabbed 3-14.
In the second game, Hauraruni went under to Kuru Kururu by 88 runs.
Batting first, Kuru Kururu scored 198-2 from their allotted overs with Mark Boyer 17 and Kevon Scott, 11, the principal scorers.
Javery Kattow was the chief wicket takers with 2-17. Hauraruni, in reply reached 110-4 from their 10 overs with Aliyah Gomes bagging 2-10 for the winners.
In the final which followed, Kuru Kuru restricted their opponents Kuru Kururu to 134-7 and replied with 142-7 to record a three-wicket win.
Scores: Kuru Kururu 134-7 in 10 overs with 22 extras; Ismael Samson 14, Stacy Flores and Robin Williams two wickets each. Kuru Kuru 142-7 in 10 overs, extras 18: Stacey Flores and Shemar Alfred were joint top scorers with nine runs each while Selima Salvador picked up 2-14.
At the Vergenoegen Ground, Greenwich Primary defeated Blake Primary by 58 runs. Batting first Blake Primary made 104-9 from 10 overs. Kevin Ramlochan top scored with eight while Aftab Majeed took four wickets bowling for Greenwich. Greenwich Primary in their turn at the crease made 162-4 with extras contributing 36 runs to that total while Zephaugn Vangronigen and Alpha Nedd scored 12 and 9 runs respectively.
In the second game, Philadelphia Primary got past Parika Salem by six wickets. Parika Salem was bowled out 107 in their 10 overs. Only Alex Ali 12 and Simon Persaud 10 reached double figures. Bowling for Philadelphia Primary Kwesi Gill picked up four wickets while Vanica Shultz and Shemar Hudson supported with two wickets each.
In their turn at the crease Philadelphia Primary made 176-4. Yohance Smart made 16, while extras contributed 36 of the total score.
The East Bank Essequibo zone concluded with Philadelphia Primary defeating Greenwich Primary by 11 runs. After taking first strike Philadelphia Primary scored 131-5 with 28 extras. Greenwich Primary in return were dismissed for 120. Aftab Majeed made 14 while Vanica Shultz and Yohance Smart combined to take five wickets.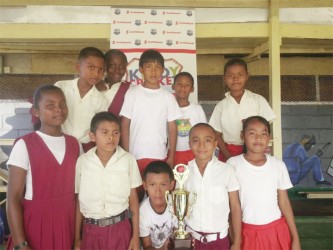 There were two matches in the Central East Bank zone played at Thirst Park ground. In game one Craig Primary defeated Covent Garden Primary by 39 runs. Craig Primary batted first and scored 174 with Shenelle Basil hitting two huge sixes in a joint top score of 14 with Shazim Nazeer.
Covent Garden Primary in their reply were restricted to 135 when their overs expired.
Jamal Thomas scored 21 to give Diamond Primary the day's final victory. Diamond Primary made 157 and then returned to bowl out Grove Primary for 122. Xavier Singh made 10 for Grove Primary.
The tournament continues tomorrow with games at Thirst Park, Bourda, Red Square and Better Hope grounds. All matches will commence at 1300hrs.
Comments

Guyana Amazon Warriors completed a last over four- wicket victory over the Barbados Tridents to keep their chances of qualifying for the playoffs alive in this edition of the Caribbean Premier League (CPL) on the back of opener, Chadwick Walton at the Guyana National Stadium, Providence, last evening.

LONDON, CMC – West Indies part-time off-spinner Kraigg Brathwaite has been reported to the International Cricket Council for having a suspect bowling action, following the Caribbean side's humbling innings and 209-run defeat at Edgbaston here Saturday.

BIRMINGHAM, England,  CMC – Under-fire West Indies captain Jason Holder has urged his players not to lose confidence despite their embarrassing innings defeat inside three days in the day/night opening Test at Edgbaston.
(Reuters) – Spanish fourth seed Garbine Muguruza played flawlessly to crush Simona Halep 6-1 6-0 in a one-sided women's final at the Cincinnati Open yesterday.

Future Stars continued their meteoric rise on the 'street football circuit', defeating Back Circle 1-0 to clinch the 3rd Annual Xtra Beer 'Ballers in the Summer' Street Football Championship on Saturday.