ABU DHABI, United Arab Emirates, CMC- Tagenarine Chanderpaul missed his century by seven runs in another thrilling batting display, as West Indies romped to a comfortable 63-run win over Canada in their group c match of the ICC Under 19 World Cup here at the Sheikh Zayed Stadium in Abu Dhabi yesterday.
Chanderpaul scored 93, his second consecutive Player-of-the-Match winning performance, to lead West Indies into the knock-out stage of the competition after his unbeaten 84 on Sunday to steer his team to a crushing 167 run win over Zimbabwe.
The young Guyanese batsman struck five fours and a single six and shared in three half century partnerships that powered the Caribbean side to 289 for four before bowling out the Canadians for 226.
Chanderpaul added 62 for the first wicket with Shimron Hetmyer who was run out for 39 after hitting four fours and a six.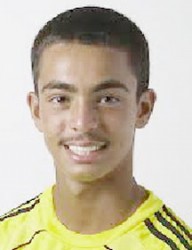 He further strengthened his team's position with a 95-run stand for the second wicket with Jeremy Solozano who smashed three fours in an even 50 before he was trapped lbw.
The West Indies run rate slowed after the loss of Solozano and Jonathan Drakes in quick succession .
However Nicolas Pooran resumed the run flow smashing an unbeaten 67 off 41 balls, hitting three fours and four sixes.
Pooran added 77 for the fourth wicket with Chanderpaul in 10.1 overs, before unleashing the big shots including three fours and four sixes and pushing West Indies' total up by 31 in the last 10 balls.
Canada, who lost the toss and were asked to field,  was off to an encouraging start losing just two wickets before crossing the 100-mark.
The Canadians scored slowly with Nikhil Dutta (62) and Tahla Shaikh (45) putting on 88 for the fourth wicket, but once Shaikh was run out, the next six wickets tumbled for only 29 runs.
Captain Ramaal Lewis, Ray Jordan and Jerome Jones picked up two wickets each while Gudakesh-Moti-kanhai picked up one.
England and Sri Lanka also qualified for the quarter finals of the ICC Under 19 World Cup .
England defeated New Zealand by 115 runs Sri Lanka  scored an eight-wicket win over United Arab Emirates .
Scoreboard
WEST INDIES UNDER-19S innings  
S Hetmyer    run out (Kapoor)             39
T Chanderpaul        c †Rao b Tinto      93
J Solozano    lbw b Kumar                  50
J Drakes        c Aurka b Tinto              16
N Pooran†    not out                              67
B King            not out                             5
Extras (lb 3, w 14, nb 2)                        19
Total   (4 wickets)                                 289   
Did not bat R Lewis*, G Moti-Kanhai, P McSween, J Jones, R Jordan
Fall of wickets 1-62 (Hetmyer, 12.5 ov), 2-157 (Solozano, 32.5 ov), 3-181 (Drakes, 38.1 ov), 4-258 (Chanderpaul, 48.2 ov)
Bowling: Tinto 10-0-64-2, Rajasingam 6-0-39-0, Shaikh 5-0-30-0, Kumar 8-0-37-1, Dutta 10-0-50-0, Manoosingh 3-0-18-0, Malik 8-0-48-0.
CANADA UNDER-19S innings   
S Aurka run out (Solozano)                  23
Y Rao† c Solozano b Jordan                 15
N Kumar*  lbw b Moti-Kanhai            50
N Dutta run out (Moti-Kanhai)            62
T Shaikh run out (†Pooran)                  45
K Tinto  b Lewis                                     1
A Kapoor c †Pooran b Lewis                   0
T Manoosingh   c Moti-Kanhai b Jones   7
A Joshi lbw b Jones                                 0
Farhan Malik b Jordan                            4
S Rajasingam    not out                            1
Extras   (b 4, lb 6, w 8)                           18
Total     (all out)                                 226      
Fall of wickets 1-35 (Rao), 2-56 (Aurka,), 3-109 (Kumar), 4-197 (Shaikh), 5-200 (Tinto), 6-200 (Kapoor), 7-219 (Manoosingh), 8-219 (Joshi), 9-221 (Dutta), 10-226 (Farhan Malik)
Bowling: Jones 10-0-57-2, Jordan 9.3-0-44-2, McSween 10-0-42-0, Moti kanhai 10-0 -29-1, Lewis 10-0-44-2.
Toss – West Indies Under-19s, who chose to bat
Points – West Indies Under-19s 2, Canada
Under-19s 0
Youth ODI debuts – A Joshi and SR Rajasingam (Canada Under-19s)
Player of the match – T Chanderpaul (West Indies Under-19s)
Umpires – D Odhiambo (Kenya) and Shozab Raza (Pakistan)
Match referee – AJ Pycroft (Zimbabwe)
Reserve umpire – S Ravi (India)
Comments

BIRMINGHAM, England, CMC – Rain halted a promising West Indies fightback after opener Alistair Cook struck his third career double hundred, to put England in command of the day/night opening Test at Edgbaston here Friday.

GROS ISLET, St Lucia, CMC – Darren Sammy has been sacked as captain of St Lucia Stars, paying the price for the franchise's woeful start to the Caribbean Premier League.
Pacesetters crushed Knights 131-59 in their Open Divisional fixture, when the Georgetown Amateur Basketball Association (GABA) League Championship continued on Thursday, at the Burnham Court at Carmichael and Middle streets.
Rising Stars continued their unbeaten run in the Bartica Zone of the NAMILCO under-17 League, trouncing Strikers by a 4-0 scoreline on Thursday, at the Bartica Secondary School ground.

The Guyana Amazon Warriors will take on top of the table Trinbago Knightriders in a must-win encounter today, in front of an anticipated capacity crowd, following their crushing loss to the Jamaica Tallawahs on Thursday night at the Guyana National Stadium, Providence.