KINGSTON, Jamaica, CMC– World T20 champions West Indies plummeted to a painful six wicket defeat against Ireland in their first T20 international at Sabina Park here yesterday.
Ireland easily chased down the West Indies sub-par total of 116 for 8 from their 20 overs to win their first Twenty20 International against the Caribbean side.
A brilliant performance by Ireland in the field severely restricted the West Indies batting and ensured none of their batsmen reached 20.
A 31 run opening stand between Chris Gayle and Dwayne Smith collapsed and both batsmen departed in the space of seven balls.
Smith hit two sixes and was caught in the deep hitting to leg for 14.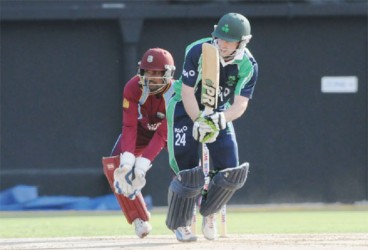 Gayle, who has just returned from injury, top scored with 18 including three fours but lost his wicket chipping Alex Cusack to long-on.
West Indies, scoring at less than a run a ball, slid further to 58 for three after losing Samuels for 16, stumped.
Dwayne Bravo and Lendl Simmons rallied in the second biggest partnership of the innings, 20, for the third wicket.
Bravo was caught at third man for eight, Simmons was caught in the deep for  16 while Tim Murtagh yorked Andre Russell for 15.
Murtagh, Alex Cusack, Kevin O'Brian picked up two wickets each for Ireland.
Ireland found themselves in trouble early in their chase after openers William Porterfield and Paul Stirling were dismissed inside eight balls.
But Ed Joyce led the way with an unbeaten 40 and shared in two important partnerships that provided the main foundation for Ireland's victory.
Joyce , who hit two fours in a composed innings,and Gary Wilson added 29 in 5.2 overs for the third wicket as West Indies bowlers toiled in the field.
Joyce also shared in a 58 run stand with Andrew Poynter which brought Ireland well within reach of victory.
Kevin O'Brien, one of two survivors from the team that beat Pakistan at Sabina Park during the 2007 World Cup, hit the winning runs.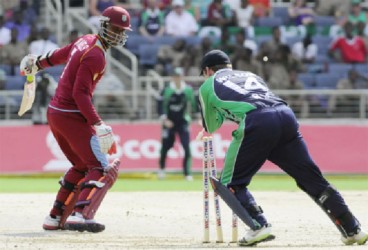 Samuel Badree, who played a major role in putting Ireland under pressure in the earlier part of their innings, finished with two for 18 from his four overs.
The two sides meet in the final T20 match of the series tomorrow.
Scoreboard
WEST INDIES innings
D Smith c Sorensen b Murtagh       14
C Gayle c Dockrell b Cusack          18
M Samuels st †Wilson b Dockrell   16
L Simmons c Thompson b Cusack  16
D Bravo c O'Brien b Sorensen         8
A Russell  b Murtagh                     15
D Sammy* b O'Brien                      7
D Ramdin† c †Wilson b O'Brien      4
S Narine  not out                             6
S Badree not out                              3
Extras (lb 2, w 7)                             9
Total     (8 wickets,20 overs)         116    
Did not bat R Rampaul
Fall of wickets 1-31 (Smith), 2-38 (Gayle), 3-58 (Samuels), 4-77 (Bravo), 5-79 (Simmons), 6-98 (Russell), 7-106 (Sammy), 8-107 (Ramdin)
Bowling: Stirling 2-0-14-0,Sorensen 4-0-23-1, Murtagh 4-0-28-2, Cusack 4-0-17-2,O'Brien  2-0-17-2, Dockrell 4-0-15-1.
IRELAND innings
W Porterfield*   lbw b Badree           4
P Stirling c Russell b Rampaul          0
E Joyce not out                               40
G Wilson†  b Badree                       18
A Poynter  b Narine                         32
K O'Brien not out                            15
Extras (lb 5, w 3)                             8
Total     (4 wickets, 19.1 overs)        117    
Did not bat M Sorensen, S Thompson, A Cusack, T Murtagh, G Dockrell
Fall of wickets 1-4 (Porterfield), 2-8 (Stirling), 3-37 (Wilson), 4-95 (Poynter)
Bowling: Badree 4-0-18-2, Rampaul 3.1, 0-27-1, Narine 4-0-16-1, Sammy 3-0-16-0, Samuels 1-0-7-0, Bravo 3-0-21-0, Russell 1-0-7-0
Toss – West Indies, who chose to bat
Series – Ireland led the 2-match series 1-0
Umpires – GO Brathwaite and JS Wilson
Match referee – D Govindjee (South Africa)
Reserve umpire – N Duguid
Comments

Yesterday, in perfect conditions for racing at the National Park, Paul DeNobrega sprinted off with the spoils of the feature 35-lap event of the fifth Banks DIH's Non-Alcoholic 11-race programme.
Back Circle will battle Tigerbay, while Future Stars will oppose ESPN in the semifinal round, following quarter-final wins on Friday, in the 3rd Annual Xtra Beer 'Ballers in the Summer' Street Football Championship.

The Guyana Amazon Warriors' horror run in this year's edition of the Caribbean Premier League (CPL) continued yesterday, as they crumbled to yet another defeat, this time falling by seven wickets to top of the table Trinbago Knightriders at the Guyana National Stadium, Providence.

BIRMINGHAM, England, CMC – West Indies suffered a humiliating innings and 209-run defeat in the historic day/night opening Test after losing 19 wickets in a devastating capitulation on Saturday's third day at Edgbaston.
Guyana's Men's and Women's teams will have the opportunity to be crowned as Caribbean Champions when the NLA XXV Senior Caribbean Squash Championships conclude today in Kingstown, St.