KINGSTON, Jamaica, CMC- A herculean face saving effort put history on hold allowing West Indies to pull off an 11 run victory over persistent Ireland and draw the two match T20 international series at Sabina Park here yesterday.
Captain Darren Sammy grabbed three wickets to lead a late counter attack as West Indies stormed back from a poor batting performance to deprive the visitors of a first series win against a Test playing nation.
Ireland restricted West Indies to an embarrassing 96 for 9 in 20 overs, their second lowest total in completed innings, since making 79 for 7 against Zimbabwe in 2010.
The visitors, at one stage, appeared to be inching to victory until Sammy's die-hard display, a three wicket haul in the middle overs which sent their effort into a tail spin.
Ireland had slumped to 22 for three when Gary Wilson arrived and occupied the crease long enough to move the game gradually away from the host.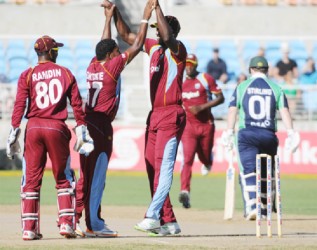 Wilson was the inspiration to the run chase with a gutsy top score of 35 and   counting four boundaries while carefully compiling his innings.
However an unpopular decision by Sammy to bring Dwayne Bravo back into the attack for a second spell paid off with the wicket of Wilson.
As the crowd voiced their disapproval at Bravo's return Wilson went for a huge shot but ended up hitting the ball high into the air for the Trinidadian all-rounder to settle under it.
Sammy had Andrew Poynter caught for two, bowled Kevin O'Brien for three and had Stuart Thompson caught for seven.
West Indies raised their game in the field clawing their way back as Ireland subsided under a combined bowling effort which saw  a wicket each for Krishmar Santokie, Samuel Badree, Sunil Narine and Bravo.
The only other Irish batsman to reach double figures was Ed Joyce who scored 10.
Earlier, Alex Cusack with an outstanding four wicket haul rocked the top order and the tail end after West Indies were sent in by Ireland who won the toss.
Cusack, a right arm fast medium bowler, removed the openers after a 27 run stand and the Caribbean side never recovered.
Andre Fletcher, replacement for Chris Gayle who was ruled out with a minor niggle, top scored with 19 including two sixes and was Cusack's first scalp, caught attempting to play square.
Dwayne Smith was caught at point for 11, Marlon Samuels and Dwayne Bravo scored 10 each, Lendl Simmons 12 and Sunil Narine 12 not out, the only batsmen reaching double figures.
Cusack finished with his best T20 figures of four wickets for eleven runs including tail enders Denesh Ramdin and  Samuel Badree for five runs each.
Sammy was awarded man-of- the- match for leading the fight back by taking three for 22 while Alex Cusack was picked as the man of the series.
Both teams meet in the lone One Day International (ODI) match tomorrow.
Scoreboard
WEST INDIES innings
D Smith            c Porterfield b Cusack               11
A Fletcher         c †Wilson b Cusack                   19
M Samuels        c †Wilson b Thompson                10
L Simmons       lbw b O'Brien                            12
DJ Bravo          run out (Porterfield/Dockrell)      10
A Russell          b Murtagh                                      8
D Sammy*        run out (Porterfield/Dockrell)      2
D Ramdin†        c Sorensen b Cusack     5
S Narine            not out                   12
S Badree          c & b Cusack             5
K Santokie        not out  0               –
Extras   (w 2)                                2
Total     (9 wickets; 20 overs)      96
Fall of wickets 1-27 (Fletcher), 2-30 (Smith), 3-44 (Samuels), 4-58 (Bravo), 5-69 (Simmons), 6-73 (Russell), 7-74 (Sammy), 8-84 (Ramdin), 9-93 (Badree)
Bowling:Sorensen 3-0-20-0, Murtagh 4-0-22-1, Dockrell 3-0-14-1, Cusack 4-1-11-4, Thompson 1-0-9-1, Stirling 1-0-4-0, O'Brien 4-0-16-1
IRELAND innings
W Porterfield*   b Badree                      5
P Stirling           b Santokie                      2
E Joyce            c †Ramdin b Narine       10
G Wilson†         c & b Bravo                 35
A Poynter         c Samuels b Sammy     2
K O'Brien          b Sammy                 3
S Thompson     c Smith b Sammy   7
M Sorensen      not out                 10
A Cusack          run out (Bravo)   8
T Murtagh         not out                1
Extras   (lb 2)                                 2
Total     (8 wickets; 20 overs)      85
Did not bat G Dockrel
Fall of wickets 1-3 (Stirling), 2-15 (Porterfield), 3-22 (Joyce), 4-25 (Poynter), 5-29 (O'Brien), 6-49 (Thompson), 7-72 (Wilson), 8-82 (Cusack)
Bowling:Santokie 4-0-12-1, Badree 4-1-13-1,Narine 4-0-12-1, DJ Bravo 4-0-24-1, Sammy 4-0-22-3
Toss – Ireland, who chose to field
Series – 2-match series level 1-1
Player of the match – DJG Sammy (West Indies)
Player of the series – AR Cusack (Ireland)
Umpires – N Duguid and JS Wilson
Match referee – D Govindjee (South Africa)
Reserve umpire – GO Brathwaite
Comments
Colts secured wins over Kobras and Plaisance Guardians in the Open and U-23 Divisions, respectively, when the Georgetown Amateur Basketball Association (GABA) League Championship continued on Sunday, at the Burnham Court, at Carmichael and Middle streets.

LONDON, (Reuters) – The gradual decline of West Indian cricket is hardly a new phenomenon but the latest capitulation of a once-dominant test match power has brought genuine expressions of sadness throughout the sport.

LONDON, CMC – The fallout from West Indies' humbling innings defeat to England in the opening Test weekend has continued with several of the Caribbean players slumping in the latest International Cricket Council rankings.
Upper Demerara Football Association (UDFA) and Essequibo/Pomeroon Football Association secured easy wins when the UDFA GT Beer Inter-Association Championship continued on Sunday, at the Mackenzie Sports Club ground, Linden, UDFA downed East Coast Football Association 3-1.

(Reuters) – England's Stuart Broad wants to play in the home Ashes series against Australia in 2019, the paceman has said after passing Ian Botham to take second place on the country's all-time list of test wicket-takers.