Jason-Ray Khalil won his third title in four years while Makeda Harding secured her maiden tournament win last night as the 2014 Bounty Farm Mash Handicap Tournament organised by the Guyana Squash Association (GSA) in collaboration with its number one corporate sponsor Digicel Guyana ended at the Georgetown Club.
Khalil (-22) captured his third title in dramatic fashion by overcoming a masterful performance from 35-year-old former national champion Regan Pollard (-16). Khalil, who is just 19-years-old, prevailed in the three-game thriller 15/9, 10/15,15/10. Eleven-year-old Makeda Harding (2) produced an emphatic breakthrough performance to win Category A of the tournament by trouncing Jonathan Edwards (6). Harding, who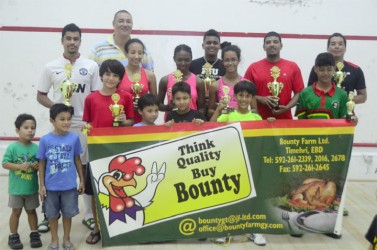 has shown tremendous improvement over the last few  months, relied on a powerful backhand drive that was too good for Edwards in the final. Savannah Mendes (0) secured third place in Category A after beating Madison Fernandes (11) 15/12, 15/13.
Seasoned campaigner Lloyd Fung-A-Fat (7) rebounded from his semifinal loss to Khalil with an emphatic win against Nicholas Narain (-8) to claim third place in the main draw. Ashley deGroot (2) won the Open Plate with an impressive two-game win against promising junior Alex Cheeks (11) 15/12, 18/16. Medhi Ramdhani (6) defeated Wayne Alphonso (12) in straight games to claim third place in the Open Plate category.
The gripping showdown in the final between Pollard and Khalil was a fitting climax to an exciting tournament. The quality of shots played by both players in the final was outstanding and the match was keenly contested. Pollard's rally construction was exquisite during the encounter, especially in the second game which he won 15/10. Pollard's brilliance in shot selection overshadowed Khalil's expert retrieving skills in the second and third game.
In the third game Khalil committed quite a few unforced errors that almost put Pollard in a poised position to steal his title. But the defending champion never let up. Khalil got on the aggressive and unleashed lethal shots of his own, that may have been adequately described as pre-emptive strikes in that they were tailored for Pollard's position and somehow, his next move. Pollard dug deep to win a crucial rally to progress to 9/6, but it seemed that that rally drained his energy. Crippled by fatigue, Pollard was never the same after, and Khalil pounced, mercilessly on his immobility to win the match.
Main Draw
Final
Jason Ray Khalil (-22) defeated Regan Pollard (-16) 15/9, 10/15, 15/10 (final)
Third Place Game
Lloyd Fung-A-Fat (7) defeated Nicholas Narain (-8) 15/7, 15/8
Category A
Final
Makeda Harding (2) defeated Jonathan Edwards (6) 12/15 15/10, 15/8
Third Place Game
Savannah Mendes (0) defeated Madison Fernandes (11) 15/12, 15/13
Winners and Runners-Up
Main Draw
First Place: Jason Ray Khalil
Second Place: Regan Pollard
Third Place: Lloyd Fung-A-Fat
Category A
First Place: Makeda Harding
Second Place: Jonathan Edwards
Third Place: Savannah Mendes
Open Plate
First place: Ashley deGroot
Second Place: Alex Cheeks
Third place: Medhi Ramdhani
Classic Plate
First place: Pablio Mundini
Second Place: Alec Melville
Category A plate
First Place: John Phang
Second Place: Sarah Lewis
Third place: Michael Alphonso
Comments

BASSETERRE, St Kitts, CMC – Batsman Emmanuel Stewart returned from West Indies Under-19 duty to immediately stamp his authority, as he steered Windward Islands to a convincing seven-wicket victory over Jamaica in the opening round of the Regional Under-19 one-day championship here yesterday.

(ESPNCRICINFO) For the first 37 overs of the game, St Lucia Stars were ahead and cruising.

The Guyana Amazon Warriors yesterday visited the St. John's Bosco Boys Orphanage at Ben Profitt Drive, Plaisance, East Coast Demerara.

LONDON, CMC – Head coach Stuart Law has praised the character of Test captain Jason Holder and says he could be an effective leader over the next decade in West Indies cricket.

LONDON,  CMC – Team manager, Joel Garner, has warned pundits to write off West Indies "at their own peril" as the Caribbean side gear up for the opening Test of the three-match series against England starting tomorrow.