KINGSTON, Jamaica, CMC – Nkrumah Bonner and John Campbell hit half-centuries as Jamaica predictably snatched first innings points over Guyana on the second day of their Regional Four-Day contest at Sabina Park here yesterday.
Responding to Guyana's paltry 117 all out on Friday's opening day, Jamaica were dismissed for 294 – a lead of 177 on first innings.
Bonner, who has played two Twenty20 Internationals for West Indies, top scored with 62 while opener Campbell struck an even 50 as Jamaica stamped their authority on the first round encounter.
At the close, Guyana were 32 for one in their second innings, still 145 runs behind heading into Sunday's penultimate day.
Resuming from 89 for one overnight with Bonner on nine and Campbell on 32, Jamaica flourished as the pair stretched their second wicket stand to 67 before being parted.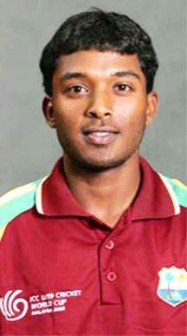 Campbell, who faced 158 balls and struck five fours, was first to fall at 138 for two, caught at the wicket off seamer Keon Joseph.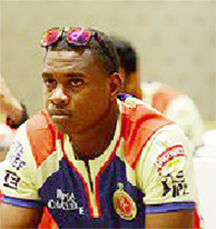 Bonner and captain Tamar Lambert then added a further 42 for the third wicket before both fell within 18 runs of each other.
Lambert went first, caught at the wicket off seamer Chris Barnwell and Bonner followed soon afterward, prised out by leg-spinner Devendra Bishoo after facing 167 balls and counting two fours.
Five wickets tumbled for 41 runs as left-arm spinner Veerasammy Permaul picked up five for 76 and Bishoo snared two for 82, to rip through the middle order.
However, West Indies all-rounder Andre Russell then rallied the lower order with 44 off 42 balls, belting eight fours.
Resurgent all-rounder Jerome Taylor then followed Russell's cue, smashing three fours and two sixes in a 31-ball 28, as Jamaica earned precious runs late on.
Summarised score at Warner Park:
First day's play.
LEEWARD ISLANDS 164 (Mali Richards 50, Sylvester Joseph 39, Montcin Hodge 27; Akeem Dewar 4-42, Ryan Austin 3-31)
COMBINED CAMPUSES & COLLEGES 90 for two (Shacaya Thomas 56 not out, Kyle Corbin 18; Tonito Willett 1-4)
Scoreboard
 GUYANA 1st Innings
S Chattergoon   c wkp Baugh b Taylor                 0
A Fudadin b Russell                                             21
V Singh c Bernard b Russell                                 18
N Deonarine c wkp Baugh b Russell                     0
*C Barnwell c wkp Baugh b Merchant                 34
+A Bramble c Campbell b Merchant                    16
D Bishoo c Bonner b Merchant                             11
V Permaul b Merchant                                           0
A Khan run out                                                       5
R Beaton not out                                                     4
K Joseph b Russell                                                   0
Extras (b1, lb2, nb5)                                                8
TOTAL (all out, 54.3 overs)                                 117
Fall of wickets: 1-1, 2-35, 3-37, 4-46, 5-80, 6-108, 7-108, 8-109, 9-116, 10-117.
Bowling: Taylor 11-6-12-1, Cottrell 8-2-15-0, Russell 12.3-2-33-4, Bernard 8-0-25-0, Merchant 15-3-29-4.
JAMAICA 1st Innings
(overnight 89-1)
H Miller c wkp Bramble b Permaul                 46
J Campbell c wkp Bramble b Joseph               50
N Bonner c Chattergoon b Bishoo                   62
*T Lambert c wkp Bramble b Barnwell           22
J Blackwood c Beaton b Permaul                     13
+C Baugh Jr c Fudadin b Permaul                    0
D Bernard Jr c Deonarine b Bishoo                    1
A Russell lbw b Permaul                                   44
J Merchant lbw b Permaul                                18
J Taylor not out                                                  28
S Cottrell b Beaton                                               3
Extras (b1, lb5, nb1)                                           7
TOTAL (all out, 101 overs)                              294
Fall of wickets: 1-71, 2-138, 3-180, 4-198, 5-199, 6-200, 7-221, 8-250, 9-289, 10-294.
Bowling: Beaton 11.3-3-40-1, Joseph 12-4-27-1, Barnwell 12-3-37-1, Permaul 28-10-76-5, Bishoo 30-9-82-2, Khan 7-2-25-0, Deonarine 1-0-1-0.
GUYANA 2nd Innings
S Chattergoon c Miller b Taylor     13
A Fudadin not out                           8
V Singh not out                               8
Extras (nb3)                                  3
TOTAL (1 wkt, 18 overs)             32
Fall of wicket: 1-19.
Bowling: Taylor 5-3-7-1, Russell 5-1-13-0, Cottrell 3-2-1-0, Merchant 3-0-5-0, Lambert 2-0-6-0.
Position: Guyana trail by 145 runs with nine second innings wickets in tact.
Toss: Jamaica.
Umpires: C Taylor, D Mills.
Comments

LONDON, CMC – West Indies will go head-to-head with nemesis Ireland in their quest reach the International Cricket Council (ICC) 2019 Cricket World Cup, after being installed in Group A of the World Cup qualifiers in Zimbabwe starting in March.

BRIDGETOWN, Barbados, CMC – West Indies captain Jason Holder says planning has already begun for the International Cricket Council (ICC) World Cup qualifiers in March as the Caribbean side looks to book its spot in the 2019 one-day showpiece in England.

National lightweight champion, Dexter 'Cobra' Gonsalves will look to shake off some rust when he returns to the ring Saturday night at the Cliff Anderson Sports Hall on the 'Bad Blood' card.

With his historic 2017 campaign officially in the rear view mirror, star athlete Daniel Williams and his coach, Johnny Gravesande have their sights set on an even better 2018 season.

A High Court judge has granted an interim injunction restraining the TT Table Tennis Association (TTTTA) from taking any further action pursuant to its decision to select players Aaron Wilson and Yuvraaj Dookram for the Commonwealth Games.