North Ruimveldt, St Mary's thump opponents 7-0
If the battle was to see which side would score the most goals yesterday in the Milo/Petra Organisation Schools U-20 football competition then neither St Mary's nor North Ruimveldt won.
Both teams dished out identical 7-0 defeats to School of the Nations and Freeburg when the competition continued yesterday at the Ministry of Education ground, Carifesta Avenue.
St Mar's recorded their first win of the competition when they thrashed School of the Nations with Raphael Charles netting a hat trick.
Charles found the back of the net in the 45th, 48th and 56th minutes and he received excellent support from Colin Denny whose two goals came in the 55th and 64th minutes and Curtis Kellman and Lennox Cort who scored the remaining two goals in the fourth and 32nd minutes respectively.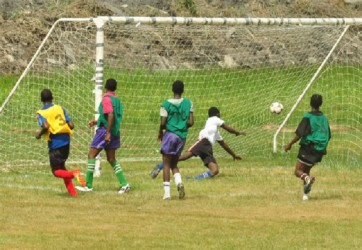 In the second game, North Ruimveldt also found a hat trick hero in
Jamal Europe whose goals came in the 13th, 40th and 56th minutes.
The other four goals came off the boots of Jeremy Garnett, 41st and 53rd minutes, Tyrese Rowley, 33rd and Carl Griffith, 36th.
In the day's final match, South Ruimveldt edged Cummings Lodge 2-1.
Kevin McPherson and Keith Caines were South Ruimveldt's goal scorers in the 16th and 21st minutes respectively while the defending champs St. George's won 2-0 win over Charlestown with Jermaine Scott, 12th and Ozeal Small, 69th the goal scorers.
The competition continues today.
Most Read This Week