Top cyclist Michael Anthony was a double winner yesterday as the first stage of the 17th annual three-stage memorial cycle road race in memory of former Guyana president Dr Cheddi Jagan concluded in West Demerara.
Anthony won the men's Open race of the Jiffy Lubes Auto Sales and Spares event in a time of one hour, 54 minutes and 32.05 seconds and because he is still a junior was declared winner of the junior category of the race which was conducted by national cycling coach Hassan Mohammed.
Second position in the Open category went to Alanzo Greaves with Paul de Nobrega third.
Defending champion Robin Persaud was fourth, Delroy Hinds, fifth and Hamzah Eastman sixth.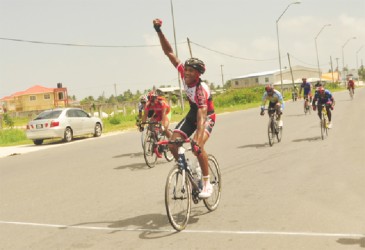 There were two prime prizes each for Eastman, Orville Hinds and Junior Niles and one each for Marlon `Fishy' Williams and Delroy Hinds.
Steven Husbands and Silvio Inniss were second and third respectively in the junior category while Ravendra Ramnarine Talim Shaw and last year's winner Kennard Lovell were the top three finishers in the junior category.
The winner of the Mountain Bikes event was Michael Holland with Wayne Newton second and Nigel Jacobs third.
In brief speeches People's Progressive Party's Navin Chanderpaul noted that the late Dr Jagan was keen on sports, especially the sport of cycling which he saw as a unifying force for the country.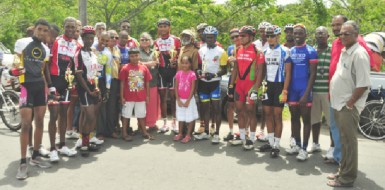 Bibi Shadick congratulated Singh for competing against the males and said she hoped that the West Demerara area will see more action while Jiffi Lubes Auto Sales representative Javed Sahadeo said that the late Dr Jagan was a keen lover of cycling adding that he was pleased with yesterday's turnout.
Organiser Mohammed thanked the sponsors, the race officials, the members of the Guyana Police Force and the cyclist for participating in the event.
Toshananna Doris was the winner of the female category as Naomi Singh broke new ground by entering the Open category although she failed to complete the race.
Comments

On the back of recent sublime form, Hamza Eastman continued his victorious ways yesterday.

In an extraordinary display of speed and stamina, Team Alanis' Paul DeNobrega took the spoils of the 5th annual CARICOM 50-mile road race with a wire-to-wire win yesterday at West Demerara.
The cream of the nation's wheelsmen will once again turn the roadways of West Demerara into their battleground today when Hassan Mohamed continues his cycling calendar.

United Cycle Club's (UCC) Albert Philander held off a strong challenge from national road race champion Raynauth Jeffrey of Team Coco to win the feature 35-lap event at yesterday's National Sports Commission (NSC) sponsored 11-race cycle programme in the National Park.

Robin Persaud powered to his third win of the season yesterday, outsprinting fellow national rider Orville Hinds in the 4th annual Seven Seas Multivitamins and Dr.