ST JOHN'S, Antigua,  CMC – A significant partnership between Ravi Bopara and Stuart Broad led England to a three-wicket victory and to square the three-match One Day International (ODI) series against West Indies at the Sir Vivian Richards Stadium yesterday.
The victory sets up a final and deciding match in the ODI series, ahead of the three Twenty20 Internationals between both teams in Barbados.
Bopara and Stuart came together when England many expected the visitors to reach the target of 160 without much incidents.
However, West Indies made England fight to the end with Bopara (38) and Stuart (28) featuring in a 58-run eighth-wicket partnership to reach 163 for seven with 31 balls remaining.
Left-arm spinner Nikitta Miller with two for 28, Dwayne Bravo two for 41, Sunil Narine one for 25 and Ravi Rampaul one for 40 were the successful bowlers for the West Indies.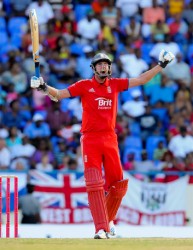 Earlier, England won the toss and decided to bowl for a second straight time. This time the hosts' batting didn't turn up, with the exception of Lendl Simmons who made 70 and his captain Dwayne Bravo with 20. Only Kieran Powell (16) and Darren Bravo (13) got into double figures as the West Indies folded for 159.
England's Broad did everything right by rotating the bowlers effectively and frustrating the West Indies' batsmen.
The top four batsmen were removed and West Indies were left to rebuild at 4-81 in the 23rd over. Simmons and DJ Bravo then added 52 for the fifth wicket before Bravo was dismissed under controversial circumstances with West Indies on 133.
The West Indies were clearly unhappy with the stumping decision on Bravo that was eventually given out despite replays indicating the ball may have been out of wicketkeeper Jos Buttler's gloves when the stumps were broken.
England dismissed the last six batsmen for 26 runs and set the stage to square the three-match series.
Debutant Stephen Parry took 3 for 23 to be named man-of-the-match with Joe Root 2 for 15 and James Tredwell 2 for 39 and a wicket each for Moeen Ali, Tim Bresnan and Broad.
Bravo admitted that the lower order batsmen didn't deliver and they were far from a reasonable target.
"It was a poor batting display. I expected better. We keep losing early wickets and it's something we have to look at," he said.
"I am happy with the effort of the bowling group but at the same time let down by the batters. They (lower order) will get some harsh words," said Bravo.
The England captain said: "Delighted to have won, we made it hard work. The bowling was awesome, the way the guys learnt from the other day. We had a wobble but great to get over the line. There's some turn for the spinners and were hard to score off."
The third and deciding match will be played on Wednesday at the same venue before both teams travel to Barbados for the T20 series.
Summarised Scores:
West Indies 159 all out (44.2 overs) Lendl Simmons 70, Dwayne Bravo 20; Stephen Parry 3-32, Joe Root 2-15, James Tredwell 2-39.
England 163 for 7 (44.5 overs) Michael Lumb 39, Ravi Bopara 38*, Stuart Broad 28*, Nikitta Miller 2-28, Dwayne Bravo 2-41.
SCOREBOARD
Toss: England, who chose to field
West Indies 159 all out (44.2 overs)
Dwayne Smith c Wright b Root             5
Kieran Powell c & b Ali                          16
Kirk Edwards c Tredwell b Root           9
Darren Bravo b Broad                           13
Lendl Simmons c Stokes b Parry        70
Dwayne Bravo* st +Buttler b Tredwell     20
Darren Sammy c Broad b Parry            3
Denesh Randin+ b Bresnan                   5
Nikitta Miller not out                              2
Sunil Narine st +Buttler b Parry            4
Ravi Rampaul c Lumb b Tredwell         1
Extras (lb 5, w 6)                                     11
Total (10 wkts; 44.2 overs)        159
Fall of wickets: 1-10, 2-30, 3-30, 4-81, 5-133, 6-145, 7-151, 8-151, 9-155, 10-159
Bowling: Joe Root 5-0-15-2, Stuart Broad 8-0-25-1 (1w), Moeen Ali 3-0-11-1, James Tredwell 9.2-2-39-2 (1w), Stephen Parry 10-1-32-3 (1w), Tim Bresnan 5-2-13-1, Ravi Bopara 2-0-0-0, Ben Stokes 2-0-13-0 (2w)
England 163 for 7 (44.5 overs)
Michael Lumb lbw b Miller                     39
Moeen Ali c Miller b Rampaul                 10
Luke Wright b Narine                                 0
Joe Root c & b DJ Bravo                           23
Ben Stokes c +Ramdin b Miller                4
Jos Buttler c +Ramdin b DJ Bravo          0
Ravi Bopara not out                                 38
Tim Bresnan run out (DJ Bravo/+Ramdin)   10
Stuart Broad not out                               28
Did not bat: James Tredwell, Stephen Parry
Extras (lb 5, w 5, nb 1)                              11
Total (7 wkts; 44.5 overs)              163
Fall of wickets: 1-29, 2-30, 3-79, 4-81, 5-81, 6-89, 7-105
Bowling: Dwayne Bravo 10-1-41-2 (1nb, 2w), Ravi Rampaul 10-0-40-1, Sunil Narine 10-0-25-1 (2w), Nikitta Miller 10-1-28-2, Darren Sammy 4-0-19-0
Result: England won by three wickets
Man-of-the-Match: Stephen Parry (England)
Umpires: Rod Tucker, Joel Wilson
TV Umpre: Marais Erasmus
Match Referee: Andrew Pycroft
Comments

PORT OF SPAIN, Trinidad, CMC – Trinidad and Tobago's Prime Minister Dr Keith Rowley has warned that West Indies could face relegation from the top tier of international cricket if the regional game continues in its current state of crisis.
NEW DELHI, (Reuters) – Royal Challengers Bangalore learnt the hard way that star power does not always guarantee success after succumbing to the lowest ever score in the Indian Premier League (IPL) in Sunday's match against the Kolkata Knight Riders.
COLOMBO, (Reuters) – A fit-again Angelo Mathews will lead Sri Lanka in June's Champions Trophy in England and Wales, the cricket board announced yesterday, unveiling a 15-member squad which also includes maverick paceman Lasith Malinga.
CAPE TOWN, (Reuters) – Former South Africa bowler Lonwabo Tsotsobe has been charged with match fixing and has been suspended immediately after a lengthy investigation, Cricket South Africa said yesterday.

PORT OF SPAIN, Trinidad, CMC – Colin Munro smashed a sensational maiden Twenty20 hundred but it proved in vain as Guyana Amazon Warriors produced an audacious run chase to shock Trinbago Knight Riders by six wickets here Saturday night.