NORTH STAND, Antigua, CMC –England survived a threatening century from Denish Ramdin to beat West Indies by 25 runs and clinch the series two-one at the Sir Vivian Richards Stadium yesterday.
Ramdin singlehandedly inspired a fantastic lower order comeback after a typical top order batting collapse with a career best 128 that almost denied England of series glory.
The Trinidadian wicketkeeper was running out of partners but kept the match alive with his superb knock in which he plundered the bowling before he was bowled; leaving the hosts 278 all out after England posted a sizable 303 for six.
Joe Root struck his first ODI hundred to anchor the innings while Josh Buttler fell a run short of his
maiden England century after West Indies won the toss and asked the Englishmen to bat first.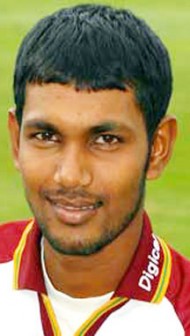 Root endured the pain from an early blow on his thumb to score 107, highlighted by a 175 run partnership with Buttler  while  Moeen Ali contributed 55 as England secured their first limited-overs series triumph since February 2013.
Root, who hit seven fours, had started his innings facing a hat-trick delivery from Dwayne Bravo after the West Indies captain had removed Michael Lumb and Ben Stokes.
Bravo topped the bowling with three for 60 while there was a wicket each for Ravi Rampaul, Sunil Narine and Nikita Miller.
A fashionable collapse of the West Indies top order threw the run chase into disarray as the Caribbean side was reeling at 43 for four.
Kieran Powell missed a sweep and was bowled by Root for one in the first over while Dwayne Smith picked out deep square-leg against Stuart Broad's first delivery and was caught for nine in the second over with  only ten runs on the board.
A 32 run stand for the third wicket between Darren Bravo and Lendl Simmons did little to bring the homeside back on course.
Bravo and Simmons scored 16 runs each before Ramdin arrived to play a starring role in a bid to save the day on the heels of an underperforming top order.
He smashed the ball around the grounds accounting for 12 fours and five sixes and shared in several crucial partnerships that generated tensed closing moments and scary periods for England.
Ramdin, scored the first hundred by a West Indies keeper in one-day cricket, threatening with a 71 run stand alongside Darren Sammy,  consolidating the innings on a 51 run stand with Dwayne Bravo, and  inching closer to the target on an 8th wicket partnership with Nikita Miller that yielded 44 runs.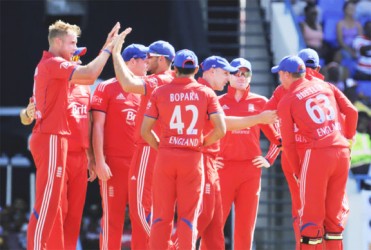 Bravo scored 27, Samuels 23, while Sammy chipped in with 24.
Tim Bresnan topped the bowling for England with three for 45 while Stuart Broad picked up two for  58.
Root, who scored a century and took the first wicket to trigger the top order batting slide, was named man-of the match.
Scoreboard
ENGLAND Innings (50 overs maximum) 
M Lumb            c Narine b DJ Bravo                                20
M Ali     c & b Miller                                                          55
B Stokes           c Rampaul b DJ Bravo                                0
J Root  c DM Bravo b DJ Bravo                                       107
E Morgan          b Narine                                                      1
J Buttler†          c & b Rampaul                                         99
R Bopara          not out                                                        5
T Bresnan         not out                                                        1
Extras (lb 5, w 8, nb 2)                                                       15
Total     (6 wickets; 50 overs)                                          303   
Did not bat S Broad*, J Tredwell, S Parry
Fall of wickets 1-37 (Lumb), 2-37 (Stokes), 3-115 (Ali), 4-116 (Morgan), 5-291 (Root), 6-300 (Buttler)
Bowling: Bravo 10-        0-60-3, Rampaul 8-0-55-1, Sammy 5-0-35-0, Smith           1-0-6-    0, Narine 10-1-   52-1,  Miller       10-0-48-1, Samuels 5-0-29-0, Simmons-1-0-13-0.
 WEST INDIES innings (target: 304 runs from 50 overs)   
K Powell           b Root                                                         1
D Smith            c Ali b Broad                                               9
D Bravo            c Bopara b Ali                                            16
L Simmons       b Broad                                                         16
M Samuels        c †Buttler b Parry                                        23
D Ramdin†        b Bresnan                                                 128
DJ Bravo*         c †Buttler b Bopara                                     27
D Sammy         c Stokes b Bresnan                                       24
N Miller c sub (CJ Jordan) b Bresnan                                  10
S Narine            run out                                                       10
R  Rampaul  not out                                                            0
Extras   (b 3, lb 6, w 5)                                                       14
Total     (all out; 47.4 overs)                                             278
Fall of wickets 1-10 (Powell), 2-10 (Smith), 3-42 (DM Bravo), 4-43 (Simmons), 5-80 (Samuels), 6-131 (DJ Bravo), 7-202 (Sammy), 8-246 (Miller), 9-263 (Narine), 10-278 (Ramdin)
Bowling:  Root 3-0-        24-1, Broad       9-0-58-2, M Ali 1-0-5-1, Parry 9-1-60-1, Bresnan 8.4-0-      45-3, Tredwell 10-          1-38-0, Stokes 4-0-21-0, Bopara 3-0-18-1
Toss – West Indies, who chose to field
Series – England won the 3-match series 2-1
Player of the match – JE Root (England)
Umpires – M Erasmus (South Africa) and JS Wilson
TV umpire – RJ Tucker (Australia)
Match referee – AJ Pycroft (Zimbabwe)
Reserve umpire – GO Brathwaite
Comments

Guyana Amazon Warriors completed a last over four- wicket victory over the Barbados Tridents to keep their chances of qualifying for the playoffs alive in this edition of the Caribbean Premier League (CPL) on the back of opener, Chadwick Walton at the Guyana National Stadium, Providence, last evening.

LONDON, CMC – West Indies part-time off-spinner Kraigg Brathwaite has been reported to the International Cricket Council for having a suspect bowling action, following the Caribbean side's humbling innings and 209-run defeat at Edgbaston here Saturday.

BIRMINGHAM, England,  CMC – Under-fire West Indies captain Jason Holder has urged his players not to lose confidence despite their embarrassing innings defeat inside three days in the day/night opening Test at Edgbaston.
(Reuters) – Spanish fourth seed Garbine Muguruza played flawlessly to crush Simona Halep 6-1 6-0 in a one-sided women's final at the Cincinnati Open yesterday.

Future Stars continued their meteoric rise on the 'street football circuit', defeating Back Circle 1-0 to clinch the 3rd Annual Xtra Beer 'Ballers in the Summer' Street Football Championship on Saturday.