BRIDGETOWN, Barbados,  CMC – Superstar batsman Chris Gayle believes West Indies have a realistic shot at defending their World Twenty20 title but admits the regional side will face a tough challenge.
The big-hitting left-hander was a key member of the side which lifted the T20 World Cup in Sri Lanka two years ago, and is expected to be at the forefront again as the side does battle in March 16 to April 6 campaign in Bangladesh.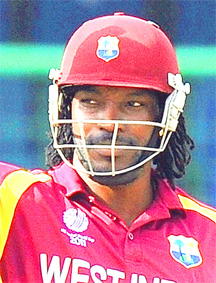 "It would be nice if history could repeat itself but it's going to be tough as the other teams are playing good cricket at this point in time, and they are actually in good form as well," Gayle told reporters yesterday at Kensington Oval.
"It is going to be good to get [out of the first round], that's always important. We'll target that first and then look forward to the semis and hopefully the final."
Since winning the T20 World Cup, West Indies have lost five of the 10 T20 Internationals they have played. More significantly, they have lost five of the last six within the last year.
The Windies also find themselves in a tough group alongside Australia, India and Pakistan.
Gayle said it was therefore important that West Indies used the three-match T20 series against England starting Sunday at the Oval, to find precious momentum ahead of the World Twenty20.
"[The series] is important for both teams even though England have been playing a lot of cricket but it's good for us to try and gain some momentum," Gayle pointed out.
"We haven't been doing well in the shorter format recently. We lost a lot of games but hopefully we can build some momentum and we can be dangerous at the T20 World Cup if we get some momentum."
Gayle will be attempting to make a comeback from injury yet again. He was ruled out of the limited over series against India, and the Test and one-day series in New Zealand late last year with a hamstring injury, and his return to action in February was curtailed by a sore back after just one T20 against Ireland.
He said he was looking forward to facing the English in the series, which also sees matches scheduled for Tuesday and Thursday.
"I'm rested for sure. I've been out for quite some time now. I came back for the Ireland game and then got injured again and that was unfortunate," he said.
"I just have a bit of a stuffy nose at this point in time but I'll be fine for Sunday hopefully and I'm looking forward to it. The good thing about it is that I'm back now. Being out for like 13 weeks can be frustrating."
Comments
Colts secured wins over Kobras and Plaisance Guardians in the Open and U-23 Divisions, respectively, when the Georgetown Amateur Basketball Association (GABA) League Championship continued on Sunday, at the Burnham Court, at Carmichael and Middle streets.

LONDON, (Reuters) – The gradual decline of West Indian cricket is hardly a new phenomenon but the latest capitulation of a once-dominant test match power has brought genuine expressions of sadness throughout the sport.

LONDON, CMC – The fallout from West Indies' humbling innings defeat to England in the opening Test weekend has continued with several of the Caribbean players slumping in the latest International Cricket Council rankings.
Upper Demerara Football Association (UDFA) and Essequibo/Pomeroon Football Association secured easy wins when the UDFA GT Beer Inter-Association Championship continued on Sunday, at the Mackenzie Sports Club ground, Linden, UDFA downed East Coast Football Association 3-1.

(Reuters) – England's Stuart Broad wants to play in the home Ashes series against Australia in 2019, the paceman has said after passing Ian Botham to take second place on the country's all-time list of test wicket-takers.