—-Boxers, athletes getting ready for competition
Guyana's contingent of boxers and track and field athletes which arrived in Santiago, Chile on March 5 for the South American Championships have acclimatized and will spring into action today.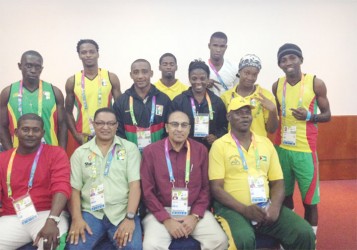 According to a release by the Chef-de-Mission, Gokarn Ramdhani, the team which comprises three boxers and five athletes, are acclimatizing with their daily training under the supervision of their coaches who are using their experience to ready the nation's representatives for competition.
The release further stated that the coaches Lyndon Wilson (athletics) and Terrence Poole (boxing) will attend their technical meetings today and will be given all the necessary information for the competition.
Guyana's representatives are Eon Bancroft, Theresa London, Dennis Thomas (boxers), Winston George, Cleveland Ford, Cleveland Thomas, Wayne Harlequin and Alicia  Fortune (track and field).
The Flag Raising ceremony was held on March 6 and gifts were exchanged with the Chef-de-Mission who made the presentation to the Director of the Games.
On March 7, the opening ceremony took place and the teams paraded around the stadium. There was also the lighting of the torch and a vast display of fireworks.
President of the GOA K.A Juman Yassin also met with the team and motivated them to compete with excellence.
The team is expected to return on March 19.
Comments

(Reuters) Three USA Gymnas-tics board members resigned yesterday in the wake of its former team physician sexually abusing female gymnasts, a step the organization said would support its reform efforts.

(Reuters) – The presidents of world soccer and world athletics are set to be snubbed by the International Olympic Commit-tee (IOC) next month when the body is likely to again overlook them for membership, a source told Reuters yesterday.

BRIDGETOWN, Barbados, CMC – The Vivian Richards Cricket Stadium in Antigua will host the final of the Women's Twenty20 World Cup later this year, the International Cricket Council confirmed yesterday.

By Charwayne Walker When Tagenarine Chanderpaul reached three figures against Barbados at the Kensington Oval in the ninth round of the Cricket West Indies Digicel-sponsored Regional four day championships earlier this month, the son of the legendary Shivnarine Chanderpaul had placed himself and his father on an elite fathers and sons list who had the distinct honour of scoring a century at the Regional First Class Level.

By Romario Samaroo Guyana Jaguars Head Coach, Esaun Crandon said Sunday that excellent preparation and planning were the factors mainly responsible for the Guyana Jaguars winning the just-concluded Cricket West Indies (CWI) Digicel Regional four-day competition.