Jackson says Anthony is part of Knicks' future plans
NEW YORK,  (Reuters) – New York Knicks basketball chief Phil Jackson said yesterday he wants to reshape the club into a more fluid, ball-sharing team and that Carmelo Anthony is part of the future plans.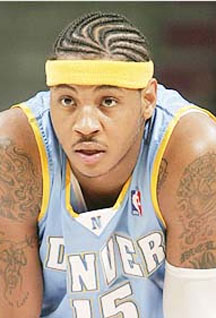 "There's no doubt about Carmelo being one of the top scorers in the league, and maybe the best individual isolation players in the game," Jackson said during a news conference at Madison Square Garden where he was introduced as the team's president.
"I have no problem committing to saying Carmelo is in the future plans."
Jackson was raised on the virtues of flowing, team basketball from his playing days as a defensive-minded forward on Knicks teams that won two National Basketball Association titles under coach Red Holzman in the early 1970s.
Jackson went on to become the league's most successful coach with 11 championships, including six with the Chicago Bulls and five with the Los Angeles Lakers.
As a coach, Jackson benefitted from the formidable one-two punch of Michael Jordan and Scottie Pippen with the Bulls, and in Los Angeles he built a championship run on the tandem of Kobe Bryant and Shaquille O'Neal.
Those teams also featured valuable role players and used what came to be called the triangle offense, which put a premium on movement without the ball and passing.
"We know that we need another solid contributer who can score and help Carmelo go along," said Jackson.
Jackson made clear that roles could change, even for Anthony, who is averaging 28 points a game for a Knicks team this season that is 27-40 and currently outside the playoffs.
"There's a number of things I can see Carmelo doing as he moves forward. As great a player as he is, there is still another level he can go to."
But the future is uncertain as Anthony, a seven-time All-Star and last year's scoring champion, has said he would take advantage of an opportunity to test the free agent market after this season.