Leading supplement and fitness products supplier, Fitness Express, has once again flexed its corporate muscle in support of a sporting discipline.
Fitness Express (47 Sheriff Street, Campbellville) yesterday presented a cheque to Committee Member of the Guyana Amateur Powerlifting Federation (GAPF), Winston Stoby to aid in this year's novices and junior championships.
The championships will be staged on April 5 at the National Gymnasium.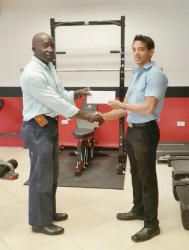 In brief remarks, CEO of Fitness Express, Jamie McDonald, said that his company is always happy to provide sponsorship and support to the GAPF especially given the stellar performances and results, both locally and internationally of its lifters.
McDonald added that the GAPF and the entire powerlifting fraternity continues to do Guyana proud adding that it was amazing that  they are able to achieve such high levels of success with such modest financial investment relative to the other more prominent sporting initiatives in Guyana.
"We look forward to seeing the performances of the novice
athletes that this year's competition will produce," said Mc Donald.
Weigh-in time is 7am and the competition begins at 10am.
There will also be a novelty bench press competition for athletes over and under 200lbs.
Comments
Colts secured wins over Kobras and Plaisance Guardians in the Open and U-23 Divisions, respectively, when the Georgetown Amateur Basketball Association (GABA) League Championship continued on Sunday, at the Burnham Court, at Carmichael and Middle streets.

LONDON, (Reuters) – The gradual decline of West Indian cricket is hardly a new phenomenon but the latest capitulation of a once-dominant test match power has brought genuine expressions of sadness throughout the sport.

LONDON, CMC – The fallout from West Indies' humbling innings defeat to England in the opening Test weekend has continued with several of the Caribbean players slumping in the latest International Cricket Council rankings.
Upper Demerara Football Association (UDFA) and Essequibo/Pomeroon Football Association secured easy wins when the UDFA GT Beer Inter-Association Championship continued on Sunday, at the Mackenzie Sports Club ground, Linden, UDFA downed East Coast Football Association 3-1.

(Reuters) – England's Stuart Broad wants to play in the home Ashes series against Australia in 2019, the paceman has said after passing Ian Botham to take second place on the country's all-time list of test wicket-takers.