Four teams registered wins on the opening day of 22nd Annual Ministry of Culture Youth and Sport/National Sports Commission/AL Sport and Tour Promotions Schools Windball Cricket Champions Trophy played at the National Park Tarmac last weekend.
In declaring the tournament open, Director of Sport, Neil Kumar, praised the organiser for his continued hard work in organising programmes involving students from Georgetown and East Bank Demerara. "I am not surprised with the turn out here today because I know the organiser and the interest and energy he puts in to his work," said Kumar.
Kumar made a commitment to the students to sponsor an U18 & U15 Windball programme on the East Bank Demerara as part of the Independence celebrations which he said could be played on a weekend so that the parents could come out to support their children.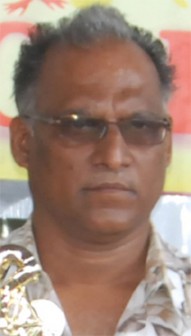 In the first female match of the day, Tucville Secondary making their debut in the tournament lost to last year's finalist Covent Garden. After being sent in to bat Tucville scored 49-0 with Jannell Philips hitting the top score of 43 with the aid of two sixes and five fours.
In reply, Covent Garden Secondary reached 54-0, with their opening pair of Kaysia Schultz making 26 and Maria Singh 22. Last year the pair recorded opening partnerships of 99 and 110 at the same venue.
In the other female game to be played, North Georgetown Secondary School (NGSS) who didn't win a match in the 2013 programme, recorded a last ball victory over Eletra's Institute who is also playing for the first time in the competition. Eletra's batted first and scored 44-3 with Anjalie Hanoman the principal scorer with 10. NGSS replied with 45-2.
In the male category, 11 times champions Covent Garden Secondary School (CGSS) began with an easy win over Monar Educational Institute (MEI).
After being invited to bat MEI scored 39-7, with Wayne Bollers hitting the top score of 10. Bowling for (CGSS) Juinor Ramnauth, Damion Sardinha and Joshua Rudi picked up 2 wickets each.
In their turn at the crease, CGSS hit off the required runs in 1.5 overs with D. Sardinha 18 and Anup Lachhman 12.
In the second game, St Joseph's High School (SJHS) in their debut game made 72-5 after electing to bat, with Travis Persaud 28 and Peandra Persaud 26 being the main scorers. Atto Jones pick up 2 wickets for Queenstown Secondary, who in reply were restricted to 43-8.
In the final game Eletra's Institute 42-4 (Rayon Kansinelly 13 and Mahendra Singh 10) lost to Friendship Secondary 47-1, with Sunil Tulsidas 36 not out by 9 wickets.
Comments

By Romario Samaroo One week prior to the start of the West Indies Super50 cup, the Guyana Jaguars yesterday released their 14-man squad which features five new faces.

The decision by the Guyana Olympic Association (GOA) to give a monthly stipend to a number of athletes and coaches must be commended.

Chairman of selectors for the national cricket team, Rayon Griffith, has emphasized the importance of fitness and the inclusion of players who are regarded as 50 overs 'specialists' as key elements to the Guyana Jaguars limited overs run.

By Noelle Smith Swimming officials from Guyana and Suriname will have to wait another month for Switzerland based international body, FINA, to assign a representative to facilitate a training programme here in Guyana.
Guyana Jaguars opener Chandrapaul Hemraj, who topped the Jaguar's batting run chart during their unbeaten run this season without registering a century says he is not bothered about it and many will follow once he gets the first.