Guyana Football Federation (GFF) Technical Development Officer Lyndon France said more work needs to be done at the club level to educate players about the impact of physical conditioning on performance, if they are to compete internationally.
"There is a need for improvement. FIFA research materials state that players need a VO2 max (maximal oxygen uptake) of around 60 to be able to cope with the modern game and have excellent powers of recovery," France said in an exclusive interview with this newspaper following the GFF National Team physical.
"Of the 29 players that we would have tested, only eight players fell between 56 and 59 and that is generally the level for central defenders who do not have to do lot of running," he said. "Generally it is not understood in Guyana how related physical conditioning is to performance and as a result, I do not think that enough work is being done at the club level with players," the long-serving GFF official said.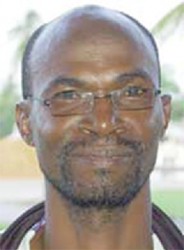 France asserted that while more work needs to be done at the club level, it is the federation as the governing body that needs to educate the respective club coaches about what is expected at this level of play.
Quizzed about the criteria that will be used to narrow down and eventually select the members of the side, France said,  "We will look at the technical ability of the players, the physical evaluation of the players and as well as the mental factor of the players."
Regarding the expected timeframe for the side to start their training and to be encamped, France said while it is expected to be soon, no date has been set as the tournament is in May.
Comments

(Reuters) Three USA Gymnas-tics board members resigned yesterday in the wake of its former team physician sexually abusing female gymnasts, a step the organization said would support its reform efforts.

(Reuters) – The presidents of world soccer and world athletics are set to be snubbed by the International Olympic Commit-tee (IOC) next month when the body is likely to again overlook them for membership, a source told Reuters yesterday.

BRIDGETOWN, Barbados, CMC – The Vivian Richards Cricket Stadium in Antigua will host the final of the Women's Twenty20 World Cup later this year, the International Cricket Council confirmed yesterday.

By Charwayne Walker When Tagenarine Chanderpaul reached three figures against Barbados at the Kensington Oval in the ninth round of the Cricket West Indies Digicel-sponsored Regional four day championships earlier this month, the son of the legendary Shivnarine Chanderpaul had placed himself and his father on an elite fathers and sons list who had the distinct honour of scoring a century at the Regional First Class Level.

By Romario Samaroo Guyana Jaguars Head Coach, Esaun Crandon said Sunday that excellent preparation and planning were the factors mainly responsible for the Guyana Jaguars winning the just-concluded Cricket West Indies (CWI) Digicel Regional four-day competition.