SAVAR, Bangladesh, CMC – Deandra Dottin emphatically announced her return to international cricket with a scintillating unbeaten half-century as West Indies Women whipped Australia Women by 16 runs in their second and final warm-up game here yesterday.
Playing at the Krira Shikkha Protisthan No 3 Ground, West Indies tallied a competitive 144 for three off their 20 overs, with the right-handed Dottin smashing 78 from 48 balls.
In reply, Australia lost early wickets and were never really in the hunt, finishing on 128 for seven, with off-spinner Anisa Mohammed picking up three for 25 and left-armer Shanel Daley claiming two for ten.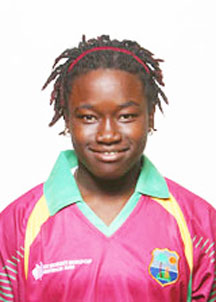 While the second successive warm-up victory was key for team morale, Dottin's display of top form would have been more significant. She was suspended for the recent tour of New Zealand on disciplinary grounds and West Indies struggled without her, losing the one-day series 3-0 and the five-match T20 series, 4-0.
Only last October, the regional side trounced England and New Zealand in the Tri-Nation Series in Barbados, with Dottin emerging as Player-of-the-Series.
In her first match back on Tuesday, Dottin managed just six against South Africa but showed she had lost none of her aggressive touch on Friday, as she blasted 12 fours and two sixes.
West Indies lost Natasha McLean (7) and Kycia Knight (18) to slip to 30 for two in the sixth over before Dottin came to their rescue. She was at the foundation of two partnerships, adding 64 for the third wicket with Kyshona Knight who scored 21, and a further 50 off just 29 balls for the fourth wicket with Stafanie Taylor (11 not out).
After mixing caution with selective aggression throughout the early stages of her innings, Dottin went on all out attack at the start of the 16th over, smashing a four and a six in an over from left-arm spinner Jess Jonassen (2-24) that cost 13 runs.
The six raised Dottin's half-century off 32 deliveries and she continued to attack, dominating the partnership with Taylor to give the Windies a strong finish.
West Indies bowlers then struck early when Daley trapped Elyse Villani lbw without scoring in the first over, with the score on five.
Delissa Kimmince, who top scored with 26 off 31 balls, led a slow Australia recovery which was then stalled in the fifth over when Mohammed claimed captain Meg Lanning for 16, at 31 for two.
Australia continued to lose wickets which pegged back their scoring rate and a required run rate of 11 per over off the last five proved too much.
Scoreboard
WEST INDIES WOMEN
Kycia A Knight b Perry                18
N McLean c Healy b Jonassen         7
Kyshona A Knight st
Mooney b Jonassen                        21
D Dottin not out                          78
S Taylor not out                            11
Extras (b2, lb4, w3)                       9
TOTAL (3 wkts, 20 overs)           144
Did not bat: T Smartt, S Munroe, S King, S Campbelle, S Quintyne, C Henry, A Mohammed, S Selman, S Daley, *+M Aguilleira
Fall of wickets: 1-15 (McLean), 2-30 (Kycia Knight), 3-94 (Kyshona A Knight)
Bowling: Jonassen 4-1-24-2, Hunter 3-0-21-0, Osborne 2-0-5-0, Perry 4-0-26-1, Coyte 2-0-19-0, Farrell 3-0-17-0, Ferling 2-0-26-0.
AUSTRALIA WOMEN
D Kimmince st
Aguilleira b Mohammed              26
E Villani lbw b Daley                    0
*M Lanning c Daley
b Mohammed                                 16
J Cameron st Aguilleira b Daley    18
A Blackwell ret. out                     23
E Perry c Kyshona
A Knight b Mohammed                    5
A Healy c & b Dottin                       16
J Jonassen not out                             13
R Farrell not out                             4
Extras (b1, lb2, w3, nb1)               7
TOTAL (7 wkts, 20 overs)            128
Did not bat: N Bolton, H Ferling, J Hunter, S Coyte, E Osborne, +B Mooney.
Fall of wickets: 1-5 (Villani), 2-31 (Lanning), 3-56 (Cameron), 4-77 (Kimmince), 5-87 (Perry), 6-107 (Blackwell), 7-119 (Healy)
Bowling: Daley 3-0-10-2, Smartt 3-0-24-0, Quintyne 3-0-17-0, Selman 4-0-23-0, Mohammed 4-0-25-3, Munroe 2-0-22-0, Dottin1-0-4-1.
Result: West Indies Women won by 16 runs.
Toss: Australia.
Umpires: Enamul Haque, Sharfuddoula.
Around the Web