MIRPUR, Bangladesh,  (Reuters) – India maintained their impeccable World Cup record against arch rivals Pakistan after Virat Kohli's fluent 36 not out powered them to a seven-wicket victory in a group two super 10 stage match of the World Twenty20 yesterday.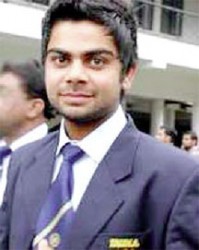 Put into bat, Pakistan did not get the flying start they were looking for and could not mount a late assault either against India's disciplined bowlers who restricted them to 130-7 at the Sher-e-Bangla National Stadium.
India made a strong, if not spectacular, start to their chase with their openers adding 54 runs in eight overs before Shikhar Dhawan (30) fell to Umar Gul to trigger a mini-collapse.
Rohit Sharma (24) dragged a Saeed Ajmal delivery on to his stumps while Bilawal Bhatti rearranged Yuvraj Singh's stumps as India slumped to 65-3 in the 11th over.
Kohli displayed the kind of form that has made him the mainstay of Indian batting, playing with characteristic ease and grace to add 66 runs with Suresh Raina (35 not out) to win the match with nine balls to spare.
The victory prolonged India's unbeaten record against Pakistan in 20-over and 50-over World Cups but Pakistan captain Mohammad Hafeez denied it was a psychological barrier for Pakistan.
"You may say whatever you want but we don't think like 'this is World Cup and we've never beaten them in World Cup events'," he told reporters.
"We go into a match (with) positive (mindset). Unfortunately, we could not snap that streak but we'll try our level best next time."
Hafeez said Pakistan could not accelerate in then final overs which could have taken them to a 150-plus score.
Wary of the dew factor and confident of his team's ability to chase under floodlights, India captain Mahendra Singh Dhoni earlier asked Pakistan to bat first and opened with off-spinner Ravichandran Ashwin.
 COMICAL MIX-UP
Kamran Akmal warmed up with a couple of boundaries before running himself out in the second over following a comical mix-up with Ahmed Shehzad.
Shehzad featured in another confusion in the very next delivery but was fortunate as Dhoni's direct throw missed stumps as the batsman hurried back abandoning his pursuit for a non-existent single.
Hafeez also had his share of luck as Yuvraj, usually a safe catcher, dropped him at deep midwicket off Mohammad Shami when the Pakistan captain was on five.
Hafeez (15) could not make the most of the reprieve and fell to Ravindra Jadeja's third delivery after Bhuvaneshwar Kumar ran from deep cover to take a low, diving catch.
Shehzad (22) joined him in the pavilion in the next over, having charged out only to be completely foxed by leg-spinner Amit Mishra's prodigious turn.
Umar Akmal (33) added 50 runs with Shoaib Malik (18) but fell to Mishra just when he looked set for a late assault to push the score.
"Spin and flight are my strengths and MS (Dhoni) backed me to bowl without pressure," said Mishra who has been in and out of the Indian team.
"It's difficult when you sit out matches after matches but I always think positive and tried to improve."
Pakistan expected batting fireworks from Shahid Afridi when he walked in but the all-rounder fell for eight as Raina took a diving catch in the deep to snuff out Pakistan's hopes of a late surge.
Comments

(Reuters) Three USA Gymnas-tics board members resigned yesterday in the wake of its former team physician sexually abusing female gymnasts, a step the organization said would support its reform efforts.

(Reuters) – The presidents of world soccer and world athletics are set to be snubbed by the International Olympic Commit-tee (IOC) next month when the body is likely to again overlook them for membership, a source told Reuters yesterday.

BRIDGETOWN, Barbados, CMC – The Vivian Richards Cricket Stadium in Antigua will host the final of the Women's Twenty20 World Cup later this year, the International Cricket Council confirmed yesterday.

By Charwayne Walker When Tagenarine Chanderpaul reached three figures against Barbados at the Kensington Oval in the ninth round of the Cricket West Indies Digicel-sponsored Regional four day championships earlier this month, the son of the legendary Shivnarine Chanderpaul had placed himself and his father on an elite fathers and sons list who had the distinct honour of scoring a century at the Regional First Class Level.

By Romario Samaroo Guyana Jaguars Head Coach, Esaun Crandon said Sunday that excellent preparation and planning were the factors mainly responsible for the Guyana Jaguars winning the just-concluded Cricket West Indies (CWI) Digicel Regional four-day competition.