Day two of the CARIFTA trials to select Guyana's representatives at the Easter Weekend Games in Martinique came and went just as swiftly as some of the times the junior athletes recorded on the track yesterday.
The usual suspects, Kevin Abbensetts, Jason Yaw, Cassey George and Jevina Sampson all recorded doubles as part of at the day's activities at the Police Sports Club ground, Eve Leary.
Here are some of the highlights:
200m under-20 Boys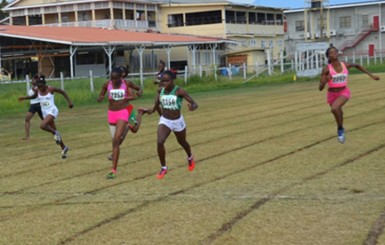 After Arinze Chance stumbled and fell on the turn, Kevin Abbensetts, the meet's fastest man only competition was the gust that was blowing across the venue. The muscular sprinter powered to the line and finished in a brisk 21.5s to record a sprint double after clocking 10.4 on Saturday in the marquee 100m event.
Kareem Punch (22.4) was a distant second while Shaquille Smart (22.6) was third.
200m under-18 Girls
In arguably the most entertaining and competitive race of the two-day trials, Jevina Sampson followed up her 400m win with a scorching victory.
The shortest of the eight starters stood the tallest on the podium after stopping the clock in 25.3s, beating one of the deepest fields in recent memory.
Avon Samuels (25:80) was second while a dipping Natricia Hooper (26.0) came from nowhere to finish third. Tirana Mitchell (26.30) and Kenisha Phillips (26.40) were the third and fourth runners up.
200m Under-18 Boys
Jason Yaw proved why he was on the podium for last year's CARFTA Games.
Yaw who snared bronze in both 200m and 400m events last year in the Bahamas, underlined his supremacy on the local circuit yesterday. After easily winning the 400m on Saturday, the 6'2 sprint phenom clocked 21.8 to win the half-lap event. Dequan Vancooten (22.20) and Linton Mentis (22.70) joined him on the podium.
3000m under-18 Girls
CARIFTA Games medalist, Cassey George followed up Saturday's 1500m victory with a scintillating run in the 3000m.
Once again the clock was George's only competition. Her winning time (10:44.5) was 36 seconds faster than her nearest competitor, Andrea Foster. Shontell Hinds (11:37.8) ran in third.
Kezra Murray (800m under-18 Girls) Shauntel Adams (800m under-20 Girls), Kwesi Blair (800m under-18 Boys), Orin Prince (800m under-20 Boys), Matthew McKenzie (3000m under-18 Boys) and Grivon Grant (5000m under-20 Boys) were the other winners on the track.
The athletes have done their job, it is now up to the AAG's executive to select the best possible team to don the national colours in Martinique from April 18-21.
Comments

Guyana Amazon Warriors left a packed house heartbroken after folding to the Jamaican Tallawahs by two runs in a thrilling final over, as they began their home leg of this year's Caribbean Premier league (CPL) with a school boyish display, last evening at the Guyana National Stadium, Providence.

DUBAI, England, CMC – Reigning champions West Indies Under-19s will be part of history, when they kick off their title defence of the ICC Youth World Cup (YWC) against hosts New Zealand Under-19s.

Guyana ended their Group-F campaign in the CONCACAF Boys U15 Championship on a winning note, edging St.

BIRMINGHAM, England, CMC – A day that started brightly ended in typical uncertainty for West Indies, after Alastair Cook and Joe Root plundered hundreds to give England an early hold on the historic first Test on Thursday.
BASSETERRE, St. Kitts, CMC – A strong all-round performance from Javeor Royal propelled Jamaica Under-19s to a four-wicket victory over ICC Americas Under-19s in the Regional One-day youth tournament on Thursday.