Opening batsman Bhaskar Yadram was yesterday retained as Captain for the Demerara Under-15 team ahead of the upcoming Guyana Cricket Board (GCB)/Limacol U15 tournament which gets underway shortly.
Yadram will seek to lead the defending champions with success as he did last April aided by a team of capable young players such as; Joshua Persaud, Colin Barlow, Ashmead Nedd, Sagar Hiathiramani and others who were selected based on performances in the two-day match which concluded yesterday at the Demerara cricket Club (DCC).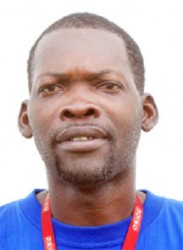 The match saw a Yadram XI playing a Stephen Wilson XI over the two day period which commenced on Saturday. Batting first Yadram's XI made 185 all out in 40.3 overs after their skipper led from the front with a top score of 80 which was decorated with 10 fours.
Hiathiramani (33) and Nedd (23) supported well down the order after Junior Phillips (2-34), Ganesh Jitlall (2-23) and Wilson (2-20) ran through the batting line. Failing to capitalize on good bowling performances, Wilson's XI then crashed to 102 all out in 44.2 overs compliments of Mark Baptise (3-12), Hiathiramani (2-11) and Nedd (2-23).
Christopher Campbell and Mark Ramsammy scored 22 runs each while Jitlall chipped in with 14 leaving their team trailing by 83-runs. Yadram's team then seized the opportunity to add to their lead by piling on 183 runs for eight wickets in their second innings after knocks from Kurt Lovell (44), Yadram (35), Nedd and Persaud 24 each and Hiathiramani (22).
Kenchandra Hardyal was the best bowler for the Wilson-led XI claiming 2 for 18. Chasing 266 runs in their final innings Wilson's team were restricted to 122 for 7 as officials called of the match at 16:15hrs.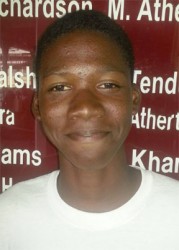 Bookie (37), Ramsammy (26) and Robin Williams (20) managed to fend off the onslaught dished out by Nedd (3-23) and Pradesh Balkisson (2-15), falling short of their target by 144-runs. During an invited comment former National player and Demerara's coach Garvin Nedd told Stabroek Sports that he was pleased with the two days of cricket which he said was used to get the players acclimatized ahead of the tournament.
Nedd lauded the efforts of; Persaud, Yadram, Bookie and Lovell for their performances with the bat, terming Persaud and Lovell as "something special". He also noted that apart from their muscle in the batting department Demerara have two class spinners in Nedd and Hiathiramani who have represented Guyana at the Regional U-15 level.
As defending champions Nedd stated that his team will be aiming to confidently retain their title but will not be "underestimating" opponents Berbice and Essequibo in the process.
Demerara Under-15 team reads: Bhaskar Yadram (Capt.), Paul Thomas, Alphius Bookie, Joshua Persaud, Kurt Lovell, Ganesh Jitlall, Ramdeo Basdeo, Ashmead Nedd, Sagar Hiathiramani, Bojnarine Singh, Colin Barlow, Mark Baptise, Pradesh Balkisson  and Anthony Antonio.
The coach is Garvin Nedd and the Manager Robert "Pacer" Adonis.