Picture an IFBB pro flexing and posing his 6'1 inch, 260-pound mass of striated muscle in red shorts to soulful music.
That will be a reality come Saturday when this year's Hugh Ross Classic (HRC) guest poser takes centre stage at the National Cultural Centre for his routine.
Ladies and gentlemen, meet Jeff 'Classic' Beckham who is anxious to display his chiseled, award winning physique for your entertainment.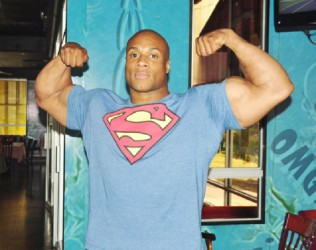 "I'm one of the guys who pose a little different from the others" Beckham told Stabroek Sport shortly after his arrival yesterday. "The ladies can expect something slow and sexy" added the muscleman from Queens, New York.
"I do full splits on the stage, I am an entertainer, and the Cultural Centre is definitely the place to be on Saturday."
The 32-year old behemoth who trains 11 times per week and eats six meals per day mentioned that Saturday's show will be his second international guest appearance since turning  pro two years ago but he is already being compared to Kai Greene, the first runner up (2nd Place) at the 2012 and 2013 Mr. Olympia competitions.
"This will be my second international guest appearance since turning pro, I went to Ecuador to guest pose last year and I have one coming up in Colombia in August and another one in Miami in October.
I'm already being compared to Kai Green who is the best poser in the industry and I think my presence onstage will be a motivation, so come there to see me and push forward with your goals."
Beckham also revealed a bit about himself.
"They call me Classic because I'm not one of the pros that's really big, I still have my lines and the structure like the guys back in the 80s era."
Ultimate goal?
"Honestly I would like to win the Arnold Classic but I'm enjoying touring the world and going different places and being an advocate of bodybuilding and fitness and talking to people about the importance of working out and living healthy
Immediate Goals?
"I will be doing four shows this year, New York pro, Chicago pro, the Dallas Pro and probably the Tijuana Pro, there are a few others in the making as well."
Tell us something we do not know.
"I have a five-year old daughter and I once auditioned for American Idol" said the smiling, soft spoken Beckham.
Notes: Saturday's show starts at 19:00hrs and tickets cost $1500. Beckham was also a Musclemania Pro and became an IFBB Pro after winning the Overall title at the NPC's NY Team Universe in 2012.
Comments

A resurgent Guyana Amazon Warriors side completed a comprehensive seven wickets victory over the out-of-sorts St Lucia Stars to cruise to their second consecutive home win in the Caribbean Premier League (CPL) at the Guyana National Stadium, Providence, last evening.

BARCELONA,  (Reuters) – Barcelona are suing Neymar for 8.5 million euros ($10.00 million) for breach of contract as they want him to return the bonus he was paid when he signed a new five-year deal just nine months before joining Paris St Germain, the Spanish club said yesterday.
(Reuters) – Cristiano Ronaldo will have to serve his five-match ban for pushing a referee after the Spanish sports court (TAD) rejected Real Madrid's appeal against the length of the suspension, Spanish media reported yesterday citing court officials.

A 90th+3 minute strike secured Western Tigers a 1-1 draw with Georgetown Football Club (GFC), when the Corona Beer Invitational Football Championship continued on Monday at the GFC ground, Bourda.

Despite concluding the CONCACAF u15 Boys Championship with only one victory from four matches, Guyana Football Federation (GFF) President Wayne Forde said, he is delighted with the team's overall performance.