Fitness Express, Guyana's leading supplement and fitness products supplier, has once again flexed its corporate muscle in support of a discipline.
Jamie McDonald, owner of the 47 Sheriff Street, Campbellville entity, made it possible for IFBB Pro, Jeff 'Classic' Beckham to be in Guyana as Saturday's guest poser for the Hugh Ross Classic (HRC) at the National Cultural Centre by undertaking Beckham's airfare and other expenses.
On Tuesday, the six foot one inch, 260-pound, Beckham, accompanied by chairman of the HRC, Hugh Ross, visited McDonald at his establishment. During the visit, the Queen's, New York muscleman stated that he is excited to be in Guyana for the first time and thanked McDonald for sponsoring his sojourn.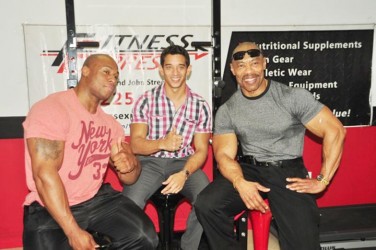 Ross, Guyana's world renowned bodybuilder and 2010 Mr. Universe Masters champion, echoed similar sentiments and praised McDonald who is always eager to lend support for a wide cross section of disciplines in Guyana.
McDonald, who has sponsored numerous bodybuilding and powerlifting shows in the past, expressed his gratitude in providing sponsorship and encouraged patrons to support the event.
The Fitness Express boss also stated that members of the public can meet and greet Beckham for two hours today starting at 14:00hrs.
Tickets for the event cost $1500 and the show is scheduled to commence at 19:00hrs.
Defending champion, Kerwin 'Chisel' Clarke, last year's CAC gold medalist, Devon Davis and newly crowned Novices champion, Sylvester Andrews are some of the contenders for the coveted Mr. HRC title.
Comments
Colts secured wins over Kobras and Plaisance Guardians in the Open and U-23 Divisions, respectively, when the Georgetown Amateur Basketball Association (GABA) League Championship continued on Sunday, at the Burnham Court, at Carmichael and Middle streets.

LONDON, (Reuters) – The gradual decline of West Indian cricket is hardly a new phenomenon but the latest capitulation of a once-dominant test match power has brought genuine expressions of sadness throughout the sport.

LONDON, CMC – The fallout from West Indies' humbling innings defeat to England in the opening Test weekend has continued with several of the Caribbean players slumping in the latest International Cricket Council rankings.
Upper Demerara Football Association (UDFA) and Essequibo/Pomeroon Football Association secured easy wins when the UDFA GT Beer Inter-Association Championship continued on Sunday, at the Mackenzie Sports Club ground, Linden, UDFA downed East Coast Football Association 3-1.

(Reuters) – England's Stuart Broad wants to play in the home Ashes series against Australia in 2019, the paceman has said after passing Ian Botham to take second place on the country's all-time list of test wicket-takers.