Add another Hugh Ross Classic (HRC) Trophy to Kerwin 'Chisel' Clarke's collection.
Clarke, the 5'9 inch, 173-pound mass of striated muscle that glistened under the lights of the National Cultural Centre (NCC), once again shredded the competition with his sharp physique to repeat as champion of the biennial event on Saturday night.
From the second he stepped on stage, Clarke's superior level of detail, symmetry, definition, fullness and conditioning set him apart from every competitor in Guyana's premier bodybuilding event.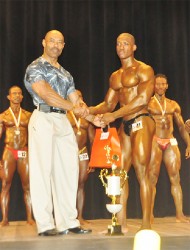 As Clarke, clad in black velvet shorts smoothly hit his poses with veteran perfection, the sizable crowd went wild, soaking up every perfectly choreographed maneuver by the reigning Mr. Guyana and double CAC bronze medalist.
Despite a few testy moments during the final pose down with the other categorical winners, Devon Davis (bantamweight), Marlon Bennett (lightweight), Sylvester Andrews (welterweight) and Alex Hamilton (heavyweight), a Clarke win was never in doubt.
The win proves that without a shadow of a doubt that Clarke is not only the best bodybuilder in Guyana but he's still getting better, testament to the improved physique he brought to the stage.
 Guest Poser
While Clarke was the most celebrated gladiator Saturday night, guest poser, Jeff 'Classic' Beckham was the most entertaining.
The 260-pound IFBB pro clad in red velvet shorts, electrified the NCC with his size, symmetry, proportion and crowd pleasing antics that left the euphoric ladies drooling.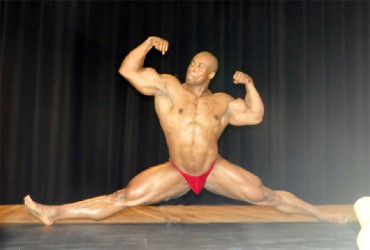 Dancing and posing to the catchy 'Wine Pun Me Button' song, the Queens, New York muscleman hit a full split on the stage that was certainly the highlight of his routine.
This year's HRC was arguably the most entertaining and competitive thus far.
Bikinis
The ladies dressed in colourful bikinis and stilettos also provided appetizing entertainment.
Denzelyn Clarke donned a black eye popping two-piece and emerged winner of the Ms. Bikini contest ahead of Donella Long and crowd favourite, Shawnell Warner who wore pink and gold bikinis respectively.
Nadina Taharally however relegated Clarke to second in the Ms. Figure segment while another crowd favourite, Letitia Myles was third.
Alisha Fortune was also in the winner's row and added a fourth HRC Ms. Physique title to her collection.
Chairman of the HRC, Hugh Ross who put on an impromptu posing display after a request by some members of the audience, dubbed the event a massive success.
Master of Ceremony for Saturday's event and President of the GABBFF, Keavon Bess, mentioned that the Senior National Championships is scheduled for August 2.
Comments

Guyana Amazon Warriors completed a last over four- wicket victory over the Barbados Tridents to keep their chances of qualifying for the playoffs alive in this edition of the Caribbean Premier League (CPL) on the back of opener, Chadwick Walton at the Guyana National Stadium, Providence, last evening.

LONDON, CMC – West Indies part-time off-spinner Kraigg Brathwaite has been reported to the International Cricket Council for having a suspect bowling action, following the Caribbean side's humbling innings and 209-run defeat at Edgbaston here Saturday.

BIRMINGHAM, England,  CMC – Under-fire West Indies captain Jason Holder has urged his players not to lose confidence despite their embarrassing innings defeat inside three days in the day/night opening Test at Edgbaston.
(Reuters) – Spanish fourth seed Garbine Muguruza played flawlessly to crush Simona Halep 6-1 6-0 in a one-sided women's final at the Cincinnati Open yesterday.

Future Stars continued their meteoric rise on the 'street football circuit', defeating Back Circle 1-0 to clinch the 3rd Annual Xtra Beer 'Ballers in the Summer' Street Football Championship on Saturday.