Baird, George, Yaw to spearhead athletics team to CARIFTA Games
The Athletics Association of Guyana (AAG) has named a nine-member squad to represent the Golden Arrowhead at the 43rd CARIFTA Games in the French island of Martinique in mid-April.
On the list released yesterday, gold and silver medalist at last year's Games, Cassey George along with double bronze medalist, Jason Yaw were named to head the team which is expected to medal once again.
Named too is Kadecia Baird, won a silver medal in the 400m at the 2012 IAAF World Junior Championships in Barcelona, Spain.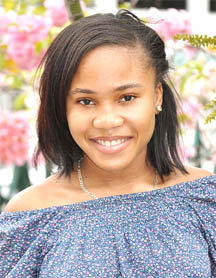 George, the runner up Junior Sportswoman of the Year, will compete in the 3000m Open, 1500m and the 4x400m under-18 events. Last year she earned gold in the 1500m and snared silver in the 800m.
Yaw, who copped bronze in both the 200m and 400m in The Bahamas last year, will again compete in those events and the Junior Sportsman of the Year will be aiming to stand atop the podium. The full team reads Under-18 Girls: George (1500m, 3000m and 4x400m), Natricia Hooper (triple jump, 4x400m), Jevina Sampson (200m, 400m and 4x400m) and Avon Samuels (200m, 400m and 4x400m).
Under-18 Boys: Yaw (200m, 400m).
Under-20 Girls: Brenessa Thompson (100m, 200m), Kadecia Baird (200m,400m).
Under-20 Boys: Kevin Abbensetts (100m, 200m), Kade Pearce (High Jump, Triple Jump).
Sham Johnny of Running Brave Athletic Club has been named Head Coach with Shawn Dietz, Matthew Martin and Glenton Pantlitz the assistants. Mayfield Taylor-Trim (Manager) and Emmerson Campbell (Media) are the other members of the contingent.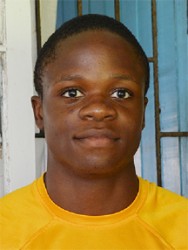 The CARIFTA Games will be held from April 18 to 21 at the Pierre Aliker Municipal Stadium.
Notes: There will be two distinct differences to this year's teams as, following last year's staging in The Bahamas, it was agreed at the congress that the lower age group would be raised from Under-17 to Under-18, while each team will be allowed a maximum of 80 athletes, up from the 70 that had been the norm for several decades.
This year's CARIFTA Games has been approved by the IAAF as a qualifying Meet for the Youth Olympic Games to be staged in Nanjing, China in August. (Emmerson Campbell)