Defending champion Demerara retained their Guyana Cricket Board Inter-County U15 title when their match against Berbice ended yesterday in a draw at the Everest Cricket Club ground.
Demerara, who took first innings points against Berbice ended the competition which was sponsored by Igloo Ice Cream with 43 points with Berbice second on 38 points, the President's XI on 25 points and Essequibo on 11 points.
Demerara, who scored 186-5 in their first innings resumed their second innings on 102-6 and closed on 166-8 after 58 overs.
Berbice, who were bowled out for 92 in their first innings needed to score 260 for an outright win and were 133-5 at the close of play.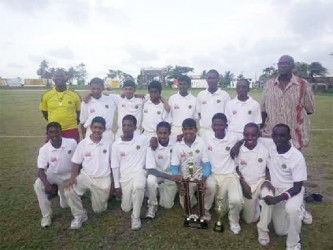 They were 30-3 at one stage but a fighting half century from Steven Deonarine helped their cause.
Deonarine, who batted patiently finished on an unbeaten 55 which included three boundaries while Sean Glasgow's innings of eight off of 64 deliveries ended off the last ball of the day when he was found short of his crease attempting a single.
Over at the Demerara Cricket Club (DCC) ground, Robin Williams and Brandon Corlette combined for a 75 runs seventh wicket partnership to lead the President's XI to 173-6 in 62 overs after they had resumed on their overnight score of 71-1. Williams top scored with an unbeaten 41 and Corlette reached 27 when the innings ended. First innings century maker Christopher Campbell (32) and Mark Ramsammy (26) were also among the runs.
Bowling for Essequibo, Beesham Moses took two wickets to finish as the chief wickets taker.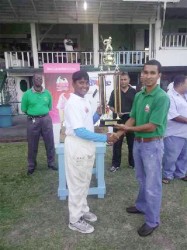 Batting a second time Essequibo was bowled out for 89 to lose by a large margin of 156 runs. Khemchandra Hardyal and Stephon Wilson were the chief destroyers taking three wickets each.
At post match presentation, Shane Cummings representative of Sterling Products, the sponsors of the tournament, said the company has been involved in various activities that assist in youth development and said that it was pleasing to see youths utilizing the opportunity so as to influence the company's continuous participation.
Colin Stuart, Match Referee and West Indies Cricket Board Territorial Development Officer urged the players to pay more attention to their individual games so that the level on competition can be higher. He also paid a courtesy call on the Essequibo team that finished at the bottom of the table to work harder to make the inter-county level more competitive for a national interest.
Bhaskar Yadram the captain of the winning Demerara team encouraged his counterparts to work harder so that next year there can be a new winner.
Scores in the two matches: Demerara 186-5 in 42 overs (Alphius Bookie 64 not out, Kris Ramnarine 2-47) and 166-8 in 58 overs (Bhaskar Yadram 40, Hathiramani 36 and Joshua Persaud 32; Javed Karim 2-9). Berbice 92 all out in 32.5 overs (Kevin Sinclair 55, Ashmead Nedd 4-25 and Anthony Antonio 2-9) and 133-5 in 55.3 overs (Deonarine 55 not out, Hathiramani 2-21)
President XI 187-4 in 43 overs (Campbell 106 not out) and 173-6 in 62 overs (Williams 41 not out and Campbell 32, Moses 2-25). Essequibo 115 all out in 37.4 overs ( Orlando Jailall 22 and Trevor Collins 21) and 89 all out (Arnold Adams 17 and Govindra Gobin 15, Stephon Wilson and Khemchandra Hardyal finished with 3 wickets each).
Comments

(Reuters) Three USA Gymnas-tics board members resigned yesterday in the wake of its former team physician sexually abusing female gymnasts, a step the organization said would support its reform efforts.

(Reuters) – The presidents of world soccer and world athletics are set to be snubbed by the International Olympic Commit-tee (IOC) next month when the body is likely to again overlook them for membership, a source told Reuters yesterday.

BRIDGETOWN, Barbados, CMC – The Vivian Richards Cricket Stadium in Antigua will host the final of the Women's Twenty20 World Cup later this year, the International Cricket Council confirmed yesterday.

By Charwayne Walker When Tagenarine Chanderpaul reached three figures against Barbados at the Kensington Oval in the ninth round of the Cricket West Indies Digicel-sponsored Regional four day championships earlier this month, the son of the legendary Shivnarine Chanderpaul had placed himself and his father on an elite fathers and sons list who had the distinct honour of scoring a century at the Regional First Class Level.

By Romario Samaroo Guyana Jaguars Head Coach, Esaun Crandon said Sunday that excellent preparation and planning were the factors mainly responsible for the Guyana Jaguars winning the just-concluded Cricket West Indies (CWI) Digicel Regional four-day competition.