MIRPUR, Bangladesh, Reuters) – Kumar Sangakkara shone in his 20-over International swansong to help Sri Lanka break their jinx and lift a maiden World Twenty20 title with a comfortable six-wicket victory over former champions India yesterday.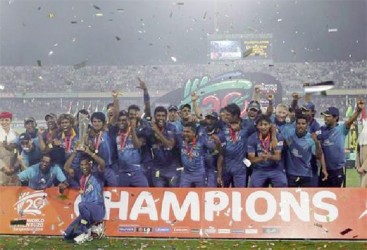 The departing duo of Sangakkara (52 not out) and Mahela Jayawardene (24) contributed the top two scores for Sri Lanka who chased down a 131-run victory target with 13 balls to spare.
With this win, Sri Lanka finally managed to snap their streak of losing the finals of global events, having gone down in the decider of the 50-over World Cup in 2007 and 2011 and Twenty20 World Cup in 2009 and 2012.
Yesteray's final was also a repeat of the 2011 50-over World Cup final which India won in Mumbai.
"It's amazing. It's a feeling that I can't express," man-of-the-match Sangakkara told reporters.
"This is the first time I've been part of a side that has won a World Cup. We have been disappointed four times before. It's hard to describe what you feel," he added.
For India, who posted a below-par 130 for four despite Virat Kohli's breezy 77, the defeat denied the reigning 50-over World Cup and Champions Trophy winners a record limited over treble.
Put into bat after evening drizzle delayed the start of the final at the Sher-e-Bangla National Stadium, India lost opener Ajinkya Rahane in the second over before Kohli added 60 runs with Rohit Sharma (29) to lay the foundations for a late assault that failed to materialise.
Yuvraj Singh struggled to find the middle of the bat, using up 21 balls to score just 11, which coupled with Sri Lanka's brilliant death bowling restricted India to a total that left their bowlers little margin for error.
Kohli, the tournament's top scorer and set in the crease by then, faced just eight balls in the last four overs before running himself out in the final delivery of the innings after a 58-ball knock that included four sixes and five boundaries.
 BRILLIANT DEATH BOWLING
Sri Lanka restricted India to just 19 runs off the last four overs despite having eight wickets in hand.
India captain Mahendra Singh Dhoni conceded India lost the plot in those final overs.
"The last four is where you want to score as many as you can but we could not capitalise on that," said Dhoni.
"At the same time, we have to give credit to the Sri Lankan bowlers. They were looking for wide yorkers and all were perfect wide yorkers. Other than one wide delivery, they were right on the mark which made it difficult for us to score freely."
Sangakkara said he could not recall watching a better death bowling display at the close of an innings. "That really set up the win. To restrict a side like that, we needed something special and our bowlers produced it," he said. "I have not seen four overs like that and that to a guy (Kohli) on 70-something on 50 balls and MS Dhoni who can hit any ball out of the park.
"For them not to be able to get bat on ball for four overs, 24 balls, that just shows the quality of our bowling, the hard work they've done, the planning and how they executed that." Sri Lanka captain Malinga was relieved to have delivered on his promise to win it for the outgoing greats.
"It was Mahela and Sanga's farewell match and we had to do something special. All the boys were looking forward to that before the match and that's why we were successful today," Malinga said.
SCOREBOARD
Sri Lanka won the toss and opted to field.
India innings
R. Sharma c Senanayake b Herath                              29
A. Rahane b Mathews                                                  3
V. Kohli run out                                                        77
Y. Singh c T. Perera b Kulasekara                                    11
MS Dhoni not out                                                         4
Extras (b-2, lb-2, w-2)                                                6
Total (four wickets; 20 overs)                                    130
Did not bat: S. Raina, R. Jadeja, R. Ashwin, A. Mishra, B. Kumar, M. Sharma
Fall of wickets: 1-4 2-64 3-119 4-130
Bowling: Kulasekara 4-0-29-1, Mathews 4-0-25-1, Senanayake 4-0-22-0, Malinga 4-0-27-0 (1w), Herath 4-0-23-1 (1w)
Sri Lanka innings
K. Perera c Jadeja b M. Sharma                                    5
T. Dilshan c Kohli b Ashwin                                      18
M. Jayawardene c Ashwin b Raina                                24
K. Sangakkara not out                                                   52
L. Thirimanne c Dhoni b Mishra                                    7
T. Perera not out                                                             23
Extras (lb-2, w-3)                                                          5
Total (four wickets; 17.5 overs)                                   134
Did not bat: A. Mathews, N. Kulasekara, S. Senanayake, R. Herath, L. Malinga
Fall of wickets: 1-5 2-41 3-65 4-78
Bowling: Kumar 3-0-18-0, M. Sharma 2-0-18-1, Ashwin 3.5-0-29-1 (1w), Mishra 4-0-32-1 (1w), Raina 4-0-24-1 (1w), Jadeja 1-0-11-0
Sri Lanka won by six wickets
Around the Web