In an extraordinary display of speed, power and stamina, Orville Hinds rode wire to wire and emerged winner of yesterday's third annual Powerade 50-mile road race at West Demerara by edging Paul DeNobrega in a thrilling two-man sprint finish.
Hinds stopped the clock at one hour, 56 minutes and 55 seconds also and carted off a sprint prize.
The Team United standout led DeNobrega (Team Alanis) and Rastaff Oselmo (Linden Bauxite Flyers) onto the podium while last year's winner of the event, Robin Persaud, Albert Philander (Team United) and Godfrey Pollydore filled out the top six paid positions.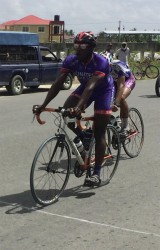 It was Hinds' fourth win of the year, making him this season's successful wheelsman so far.
DeNobrega, Oselmo, Persaud, Pollydore, Hamza Eastman, Raymond Newton and Hinds' brother Delroy Hinds also sped off with a sprint prize each.
In brilliant sunshine, the gruelling event which rolled off at Wales, proceeded to Bushy Park and finished at Schoonord, saw Hinds taking it to the rest of the 53 starters from the smoke of the pistol.
Hinds was expectedly pursued and eventually caught at by the chase peloton at Versailles.
At this point a series of attacks ensued but the peloton wheeled in the leaders on each occasion.
The attacks continued throughout the upward journey and all were unsuccessful until the top four riders changed gears at Uitvlugt. The tireless foursome of Hinds, DeNobrega, Oselmo and Persaud continued to work in tandem and steadily increased their lead with every powerful turn of their pedals despite the valiant efforts of the chasers.
At Pouderoyen, DeNobrega went on a solo attack and Hinds responded which set up the theatrics at the end.
Other categorical winners yesterday were Michael Anthony (Junior), Ozia McAulay (Mountain Bike), and Walter Isaacs.
Jennifer Khan, Marketing Manager of Banks DIH's Powerade, congratulated the top finishers of the race and aided in the distribution of trophies and other prizes.
Organizer of the event, Hassan Mohamed thanked Khan on behalf of Banks DIH Limited for their sponsorship and applauded the riders for competing in the incident-free race. It was Mohamed's 12th organized event for the year.(Emmerson Campbell)
Full Results
Seniors
Orville Hinds
Paul DeNobrega
Rastaff Oselmo
Robin Persaud
Albert Philander
Godfrey Pollydore
Juniors
Michael Anthony
Alonzo Ambrose
Raul Leal
Mountain Bikes
Ozia McAulay
Lennon Dick
Clyde Jacobs
Veterans
Talim Shaw
Ian Jackson
Davendra Ramnarine
Around the Web