ST JOHN'S, Antigua, CMC – An unbroken half-century partnership between Devon Thomas and Jahmar Hamilton frustrated Guyana and kept Leeward Islands in with a chance of victory in their sixth round Regional Four-Day match here  yesterday.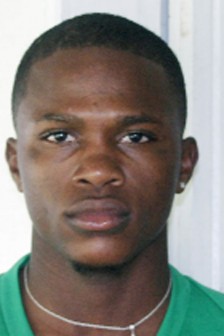 Set 279 for victory at the Vivian Richards Cricket Ground, the Leewards slumped to 28 for three before Thomas and Hamilton came together in a 73-run, fourth wicket stand to pilot the hosts to 101 for three at the close of the penultimate day.
Thomas has so far struck 38 from 59 balls with six fours while Hamilton has been equally position with his 34 off 66 balls, including five boundaries.
The Leewards require a further 178 runs to win on the final day today.
No such equation seemed likely when seamer Keon Joseph struck a couple of telling blows up front, to put the Leewards on the back foot.
He had Test batsman and captain Kieran Powell caught at the wicket for seven, and trapped the other opener Javier Liburd lbw for 11, after new-ball partner Ronsford Beaton had bowled Orlando Peters for seven, to get the second wicket of the innings.
Earlier, Guyana were bowled out for 212 after resuming the day on 47 for two.
Trevon Griffith converted his overnight unbeaten 30 into a top score of 58, made off 101 balls in 239 minutes with eight fours. Wicketkeeper Anthony Bramble hit 47, Chanderpaul Hemraj got 34 while Mohammed Shadir scored 28.
Leg-spinner Anthony Martin claimed five for 49 while left-arm spinner Yannick Leonard picked up four for 48.
The left-handed Griffith completed his maiden first class half-century off 93 balls but was one of two wickets to fall on 85 after he had put on 41 for the third wicket with Assad Fudadin (11).
Guyana slipped further to 102 for five when captain Leon Johnson perished for seven, but Hemraj and Bramble added 65 for the sixth wicket to stretch the visitors' lead.
Scoreboard
GUYANA 1st Innings 240
LEEWARD ISLANDS 1st Innings 174
GUYANA 2nd Innings
(overnight 47 for two)
T. Griffith c Willett b Martin                                       58
T. Chanderpaul c Hamilton b Martin                            9
A. Khan lbw b Martin                                                  0
A. Fudadin c Martin b Walters                                        11
*L. Johnson lbw b Leonard                                            7
C. Hemraj c Powell b Leonard                                     34
+A. Bramble lbw b Leonard                                          47
Z. Shadir b Leonard                                                    28
V. Permaul c wkp Thomas b Martin                              3
R. Beaton lbw b Martin                                                 3
K. Joseph not out                                                           1
Extras (b4, lb5, w2)                                                          11
TOTAL (all out, 87 overs)                                          212
Fall of wickets: 1-42, 2-44, 3-85, 4-85, 5-102, 6-167, 7-178, 8-181, 9-202, 10-212.
Bowling: Tonge 12-2-38-0, Boatswain 5-1-25-0 (w2), Walters 12-7-25-1, Leonard 23-5-48-4, Martin 30-13-49-5, Powell 4-1-12-0, Willett 1-0-6-0.
LEEWARD ISLANDS 2nd Innings (target: 279)
K. Powell c wkpr Bramble b Joseph                             7
J. Liburd lbw b Joseph                                                   11
O. Peters b Beaton                                                       7
+D. Thomas not out                                                        38
J. Hamilton not out                                                      34
Extras (b4)                                                                    4
TOTAL (3 wkts, 26 overs)                                       101
Fall of wickets: 1-17, 2-24, 3-28.
Bowling: Beaton 7-0-28-1, Joseph 6-1-21-2, Shadir 7-1-27-0, Permaul 6-1-21-0.
Position: Leewards need 178 more runs to win with seven second innings wickets standing.
Umpires: G. Brathwaite, Tanvir Ahmed.
CMC tm/ed/14
Around the Web