The first competition organized by the Guyana Amateur Powerlifting Federation (GAPF) for 2014, the Juniors and Novices Championship was deemed a success.
According to PRO of the federation, Paul Adams, Sunday's event, which was staged at the National Gymnasium "could be considered a success given we had 28 lifters and despite a late start we were able to wrap up the day's lifting by 4:30."
Adams noted that the GAPF was also satisfied with the performances of the Novices best lifters Roger Callendar (male) and Andrea Smith (female) and others.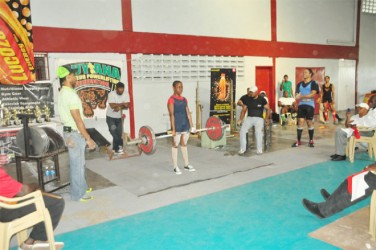 "There were some stand out novices lifters who we expect to see compete in the senior category as top contenders and perhaps spacing in their respective weight categories.
"Andrea Smith of BodyMaxx is a sure champion, with her precise movements and elegant form, it was hard to tell she is a novice lifter. More impressively, her lifts were completed without the use of wraps and belt or any supportive gear."
Expounding on Callendar, Adams noted that:"Mr. Callendar shows much promise, he must be well prepared by Senior Nationals 2014 since he will be competing in the most keenly contested weight class, the 74kg with in excess of 10 competitors."
Honourable mention was also made of Kevin Briglall (Subjunior/junior overall champion), Steve Ramnarine who impressed the audience with his 683lb squat and Kenny Mars, younger brother of Kimberley Mars-Loncke and Karel Mars.
Adams said the GAPF was also encouraged by the crowd's participation in the Novelty Bench Press competition on Sunday.
Upcoming events
"We expect a keener contest come June when we plan to host the Claude Charles Memorial Intermediate and Masters Championships.
Veteran lifters like Errol Henry, Winston Stoby, Ayube Bacchus and Farouk Abdool will be vying for the Masters Championships.
It is also an intention of the GAPF to host a Summer Bash Bench Press Competition and the Senior Nationals in November".
Comments

A resurgent Guyana Amazon Warriors side completed a comprehensive seven wickets victory over the out-of-sorts St Lucia Stars to cruise to their second consecutive home win in the Caribbean Premier League (CPL) at the Guyana National Stadium, Providence, last evening.

BARCELONA,  (Reuters) – Barcelona are suing Neymar for 8.5 million euros ($10.00 million) for breach of contract as they want him to return the bonus he was paid when he signed a new five-year deal just nine months before joining Paris St Germain, the Spanish club said yesterday.
(Reuters) – Cristiano Ronaldo will have to serve his five-match ban for pushing a referee after the Spanish sports court (TAD) rejected Real Madrid's appeal against the length of the suspension, Spanish media reported yesterday citing court officials.

A 90th+3 minute strike secured Western Tigers a 1-1 draw with Georgetown Football Club (GFC), when the Corona Beer Invitational Football Championship continued on Monday at the GFC ground, Bourda.

Despite concluding the CONCACAF u15 Boys Championship with only one victory from four matches, Guyana Football Federation (GFF) President Wayne Forde said, he is delighted with the team's overall performance.