Guyana's pound-for-pound King, Clive 'The Punisher' Atwell has been given a dream chance – a shot at Jhonny Gonzalez WBC featherweight world title.
The bout will take place on Gonzalez  home turf in Acapulco, Guerrero, Mexico on May 24.
During a press briefing yesterday at the headquarters of the Guyana Boxing Board of Control (GBBC), its president, Peter Abdool broke the knockout news to the media. Abdool stated that Atwell's management Dog Pound Inc. wrapped up negotiations with Gonzalez's handlers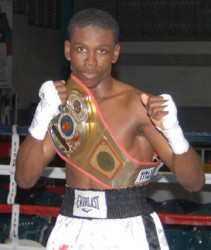 on Monday and the undefeated 25-year old is set for an opportunity of a lifetime.
"I am happy to announce that yesterday Dog Pound Inc. signed a contract for Clive Atwell to fight Jhonny Gonzalez for the WBC featherweight world title" said Abdool. There is no doubt that Gonzalez is a true champion and it is going to be an uphill battle for Clive but he has earned an opportunity that presents itself perhaps once in a lifetime.
The fight is going to happen, it was already signed and all that remains now is for Clive to train as hard as he possibly can. We are looking for May 24 to bring us a new WBC featherweight champion, Clive Atwell".
Atwell, the national featherweight, lightweight and the WBC CABOFE featherweight and light welterweight title holder is relishing the opportunity to add WBC world featherweight championship to his resume'.
"I am a mental guy when I get going and I personally believe that everything in life has to do with the mind" Atwell opined. "If I can condition the mind and my body there will be no problems. Boxing is basics, you just have to use the mind to use the basics effectively, I cant wait to be champion."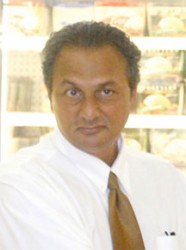 When quizzed on whether he is intimidated by his 32-year old opponent's record that reads 55 wins with 47KOs and eight losses, 'The Punisher' 12(7)-0-1 who started his professional career four years ago,maintained that he is not.
"I'm not intimidated, its boxing, I want to win, he is coming to win, he has two hands and so do I and we both have to fight according to the rules so there is nothing intimidating about my opponent.
He has a good record, he fought basically everybody in the weight class but at the end of the day the two of us have to meet, I'm different from all the other fighters he fought before, we will work it out when the time comes".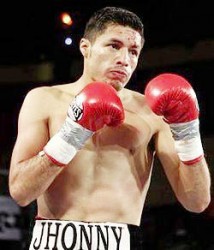 The chubby faced looking Atwell also disclosed that he has resumed training six days ago.
During the press briefing, Director of Sport, Neil Kumar stated that "I'm glad to see him getting a crack at the world title. Guyana can achieve another world title and I want to wish Atwell all the best and I believe he can be Guyana's next world champion".
Co-founder of Dog Pound Inc. Ronald Burch-Smith also made brief remarks.
Notes: Atwell's contract stipulates that he must be in Mexico seven days prior to his ring date. If  he wins on May 24, Atwell will become Guyana's eighth boxer to win a world title.
Around the Web