The United States of America led by Moritz Runzi helmet trick downed Guyana by a 7-4 margin in their second group matchup, when the Pan American Indoor Cup continued on Tuesday in Montevideo, Uruguay.
Runzi opened the scoring in the second minute for the USA through a penalty corner conversion. Ajai Dhadwal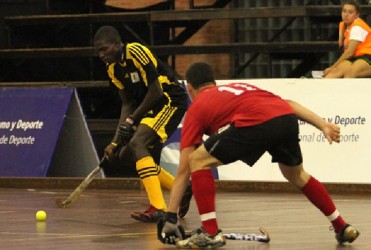 would double their lead seven minutes later as he found the back of the net with a field goal.
Guyana would cut the deficit to one as Jamarj Assanah netted compliments of a penalty corner strike. The USA would restore their two goal advantage as Runzi completed his double with a field goal in the 18th minute.
Robert Schilling made it 4-1 for the Americans, scoring one minute later from a penalty corner. Runzi would seal his hat trick in the 27th minute as the Americans stretched their lead to 5-1.
Double strikes from the Everest Hikers duo of Robert France and Aroydy Brandford in the 30th and 31st minutes respectively would pull Team Guyana within two of their opponents.
However, the Americans would restore their four advantage in quick succession as Runzi and Sebastian Scheurer netted field goals in the 35th and 38th minutes correspondingly. The score line would be completed two minutes later as Assanah netted a field goal attempt.
Around the Web