Shanella Webster made it two wins in as many tournaments after she dominated the field on Saturday to win the Beacon Ministry golf tournament held at the Lusignan Golf Club course.
Webster, who won The Torginol Golf tournament the previous weekend ended with a net 60. Mark Lashley with a net 63 was second and Kalyan Tiwari with a net 64, third.
The tournament, which featured 17 prizes for the players in four separate flights was keenly contested.
The men's first flight 0 to 9 winners were Avinash Persaud, who took first place with a net 67;  J. Dhanpat net 70 second and Vijay Deo who also ended with a net of 70 third.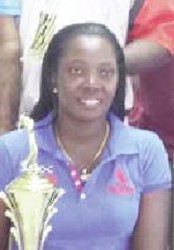 Gavin Todd was the winner of the men's second flight 10 to 18, with a net 68, second was Mike Gayadin, net 70 while David Harry, net 71 was third.
The men's third flight 19 to 28, first place went to Mark Lashey with a net 63 with Tiwari second with a net of 64 while third was newcomer Richard Hanif with a net of 66.
Webster won the female flight by 9 shots with a net 60 while Guyana Open Champion Christine Sukhram 78 net 69 placed second and Joanne Deo, net 73, ended third.
Dave Mohamad LGC Vice President said the tournament which attracted an unprecedented 50 odd players was one of the biggest tournaments thus far this year in terms of both players and prizes which was very pleasing for the club and golf in Guyana.
"Beacon Ministries has made this a tournament to remember for the players and come next year the players will be eagerly awaiting the tournament, we thank you," said Mohammed.
Head of the Ministries, Archbishop Dr. Philbert London said he was very pleased with the tournament and also commended the executive for the support he received in the running of the tournament. He also promised to make the tournament even bigger next year and said that he may even consider a two day event with more flights.
Around the Web