Devendra Bishoo's nine-wicket haul reinforced by half-centuries from Leon Johnson and Chris Barnwell kept Guyana's chances of first innings points  alive as they trail the Trinidadians by 47-runs heading into day three today in the final round of the West Indies Cricket Board (WICB) Regional 4-day tournament played at the Guyana National Stadium, Providence.
At the end of play on day two yesterday, all-rounder Zaheer Mohammed and Bishoo were both unbeaten on 38 and 18 runs respectively as Guyana were decently placed on 247 for 7 from 82 overs chasing the Trinidadians first innings score of 294.
Captain Johnson scored his 16th first-class career half-century, a composed 78 off 169 deliveries with five fours and a six, while Barnwell, who scored his 4th first-class half-century, looked confident in making  50 off 85-deliveries. His innings featured seven boundaries and he shared a sixth-wicket stand of 80 with his skipper.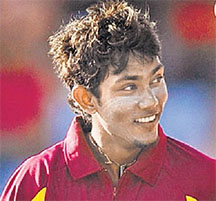 Bishoo, who finished with first innings figures of 38.4-15-78-9, the best figures by a Guyanese bowler in first-class cricket, caused all sorts of trouble on the first day of the match when he claimed seven of the eight wickets to fall on day one.
Bishoo became the fifth bowler to take nine wickets in an innings in regional competition the others being Ryan Hinds, 9-68, Deryck Parry, 9-76, Bernard Julien, 9-97 and Rajindra Dhanraj who also took 9-97.
The overnight pair of Amit Jaggernauth (12) and Imran Khan (44), who fell six short of what would have been his ninth first-class score of 50 or more were both removed in quick succession by the leg-spinner as Trinidad lost their last two wickets for 20 runs.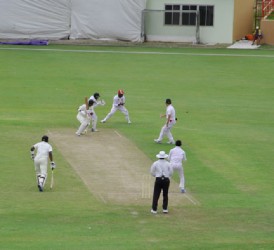 The Guyanese openers Trevon Griffith (23) and Tagenarine Chanderpaul (14) started off positively with boundaries from both ends but Shannon Gabriel, who maintained a good line around off-stump, had Griffith caught by wicket-keeper Steven Katwaroo as Guyana lost their first wicket for 34 runs.
The debutant, West Indies Under-19 opener Shimron Hetmyer (0) then walked to the middle to partner his fellow West Indies opening partner in Chanderpaul, but instead of knuckling down the aggressive 17-year old skied a Jaggernauth delivery down the throat of a patrolling Marlon Richards at deep long-off.
At 37 for 2, the skipper and lone century maker for Johnson this season, walked out to the middle to steady the innings as the lunch interval approached with his team trailing by 256-runs. Upon resumption of play Chanderpaul was tactlessly ran out when  Vishaul Singh's recall proved futile as he edged a delivery from Jaggernauth to the wicketkeeper Katwaroo as the home side slipped to 59 for 4.
Anthony Bramble (16) who is the team's second highest run-getter behind the injured Assad Fudadin was completely foxed by Jaggernauth after dancing down the track only to miss the delivery completely and was bowled. The 100 for Guyana then came in the 38th over with Johnson and Barnwell out in the middle.
Barnwell was given a life on 14 when Gabriel made a mess of a catch in the deep long-off position but Johnson's defiance and awareness of the situation soon led to his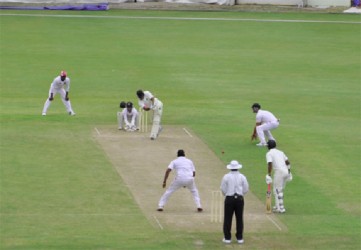 half-century which required 96-balls and 117 minutes.
At tea Guyana were 144 for 5 and seemed to be slowly rebuilding thanks to Johnson and Barnwell who applied themselves but the 27 year-old all-rounder who reached his 50 after digging in for some 90 minutes was nabbed LBW by Trinidad skipper Rayad Emrit.
Shortly after the 200 mark was reached in the 67th over, Jaggernauth got the big breakthrough after finding the edge of Johnson's bat to which wicket-keeper Katwaroo gladly completed the most important catch of the day.
Mohamed and Bishoo played with intent and managed to knuckle down in order to take their team as close as possible to their target as the curtains came down after a successful passage of play on the second day.
The action continues today at 10:00hrs.
Scoreboard
T&T 1st innings
E Lewis lbw Bishoo 64
L Simmons c Singh b Joseph 12
D Bravo lbw Bishoo 61
J Mohammed c Griffith b Bishoo 17
J Augustus c Johnson b Bishoo 15
R Emrit c Barnwell b Bishoo 26
S Katwaroo wkpr Bramble b Bishoo 3
I Khan c Barnwell by Bishoo 44
M Richards lbw b Bishoo 20
A Jaggernauth c Beaton b Bishoo 12
S Gabriel not out 4
Extras: (2nb, 6lb, 8b) 16
Total: (all out; 101.4 overs) 294
Fall of wickets: 1-35, 2-128, 3-147, 4-164, 5-187, 6-207, 7-220, 8-266, 9-284, 10-294
Bowling: Beaton 16-3-48-0 Joseph 19-5-53-1 (2nb) Barnwell 12-2-47-0 Shadir 12-0-50-0 Bishoo 38.4-15-78-9 Griffith 4-1-4-0
Guyana 1st innings
T Griffith c Katwaroo b Gabriel 23
T Chanderpaul run out (Augustus) 14
S Hetmyer c Richards b Jaggernauth 0
L Johnson c Katwaroo b Jaggernauth 78
V Singh c Katwaroo b Jaggernauth 2
A Bramble b Jaggernauth 16
C Barnwell lbw Emrit 50
Z Mohammed not out 39
D Bishoo not out 18
Extras: (1nb, 4b, 2lb) 7
Total: (for seven wickets; 82 overs) 247
Fall of wickets: 1-34, 2-37, 3-51, 4-59, 5-89, 6-169, 7-213
Bowling: Gabriel 15-4-29-1 Richards 4-0-21-0 Jaggernauth 24-5-78-4 Mohammed 14-3-27-0 (nb1) Khan 19-2-56-0 Emrit 6-1-30-1
Around the Web