Guyana's Chelsea Edghill teamed up with Belgium's Lisa Lung (ranked 56 in the world) to win a bronze medal at the Butterfly Canadian Open junior and cadet championships.
The two players who are both qualifiers for the second Youth Olympic Games scheduled for 16th – 28th August 2014 in Nanjing, China lost to USA A 1-3 in the semi-finals after placing second in the earlier group matches.
The USA A team comprised Prachi Jha, eventual winner of the girls singles competition and her partner Angela Guan a defensive player.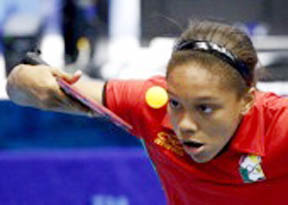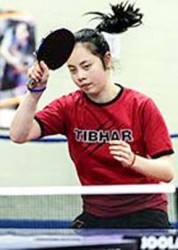 Edghill/Lung defeated USA B in their opening encounter
(3-0) with  Edgill defeating  Xiyie Hu 11-8, 9-11,11-1,11-5, Lung defeating  Annie Shi 3-1 and the pair winning the doubles 3-1.
They then lost 2-3 to Canada 'A' with Lung, winner of the girls' singles event at the Road to Nanjing Series – North America tournament earlier playing unbeaten in her two singles contests.
She accounted for Betty Guo 11-4, 11-7, 11-6 and Michelle Liaw 11-6, 8-11, 11-9, 11-7) but Edghill was beaten by Liaw 5-11, 11-7, 5-11, 11-8, 12-10 and, in the vital concluding fifth contest of the duel by Guo 11-9, 11-5, 13-11.
In the doubles, the Canadians triumphed 3-2 winning 7-11, 8-11, 11-8, 12-10, 11-5 a come from behind win after trailing 0-2.
Edghill reached the round of 16 in the singles competition where she lost to Liaw 11-5, 7-11, 11-5, 8-11, 12-10.
She had earlier placed second in her group after defeating Shi 11-9, 12-10, 11-8 but lost to Annie Luo 0-3.
Edghill's next engagements in preparation for the Youth Olympic Games  will be an ITTF  Training camp for Youth Olympic games qualifiers  scheduled for Taichang, China June 3rd- 27th; the  Pan American Olympic Festival Mexico  July ; the senior Caribbean championships  Cuba June/July;ITTF training camp USA/Sweden;  Commonwealth  Games Scotland Glasgow Jul/August; ITTF Youth Olympic Games training camp China and into the 2nd youth Olympic games
Edghill is sponsored by the Continental Group of Companies under its Sun Burst Juice brand.
In 2012 Edghill teamed up with Korea's Ku Kyojin to win the Cadet edition of the Canadian Junior and Cadet table tennis championships.
Around the Web