Kwanieze John, NACRA's Get Into Rugby (GIR) Instructor assigned to Guyana and Curacao laid part of the foundation for making the sport a household one during her three-day visit which she wrapped up yesterday.
During the Trinidadian's trip here, she introduced the Get Into Rugby programme and to assist the union with their coaches on how to implement the programme.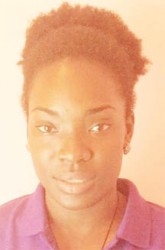 "Saturday was basically an observation day for me to basically get a feel, then on Sunday we did an orientation and training workshop with four coaches from each club and four persons from Linden," the 25-year-old told Stabroek Sport yesterday.
"The goal of GIR is growing the sport, making a sport for all in Guyana.
"We targeted two regions so far and within the year we plan to go to four more regions to introduce GIR.
"Hopefully I will be back in June and that is after we run the first phase in it a six-week cycle, after the cycle we will have a festival.
"That is the building process and development is about taking the first step."
John told Stabroek Sport that the GIR initiative was launched in 2010 and it was successful in the countries and now it is in the Caribbean."
"We saw the benefits in the Trinidad and we have seen what a fun and game oriented non-contact approach has benefited the growth of the sport in Trinidad so it's about sharing the knowledge, so five to 10 years from now it will be healthy competition."
John also encouraged the government and the private sector to get involved since she opines that "investing in youths can only be beneficial to society."
"It is part of the aim to grow the game globally."
She also thanked the GRFU for hosting her asked the public to get their children involved since "GIR is for children as young as four."
More information can be obtained from the website www.irbgetintorugby.com (Emmerson Campbell)
Around the Web