You can't go to a Manny Pacquiao post-fight press conference and not ask what it's going to take the powers that be to put together the only fight that matters in this day and age – Pacquiao vs. Floyd Mayweather, for those who may have forgotten.
Saturday night's presser, following Pacquiao's retribution victory over Timothy Bradley at the MGM Grand in Las Vegas, proved no different.
"It's hard to talk about that," said the soft-spoken Pacquiao, who, in a most Mayweatherlike way, kept the media waiting two-and-a-half-hours before making his (brief) appearance.
"It's been so many years, months, days . . . but, like I said, the line is open, 24 hours a day, seven days a week. If he wants to fight, the fight will be on."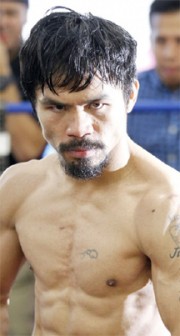 Top Rank boss Bob Arum was less diplomatic about the fight, and preferred to throw out Pacquiao fighting the winner of Juan Manual Marquez-Mike Alvarado on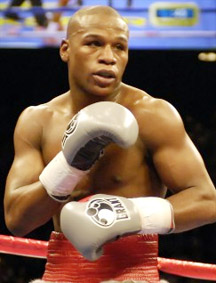 May 17.
The reluctance to mention the "M" name and top pound-for-pound fighter in the world could've had something to do with the King Kong-size images of said fighter the MGM had plastered on their exterior, framed by "Home of the Champion." Or maybe it was the luncheon held by Marcos Maidana that very day at MGM's Wolfgang Puck, to hype the May 3rd fight with Mayweather that is promoted and televised by competitors.
Arum may not be without justification for his ranting. For those driving past the casino, noting the billboards and giant Floyds, you'd never guess that Pacquiao – Bradley was even taking place.
Earlier in the week, Arum seethed about "Postergate," criticizing the "brilliant MGM's" alleged attempt to sabotage Top Rank's Pacquiao-Bradley promotion. At the postfight presser, Arum went one step further by beseeching the press – nay, daring them – to fulfill their obligation and to inform the general public ("who's paying good money to see nonsense") to write about the noncompetitiveness of Mayweather-Maidana
"It's thuggery!" exclaimed Arum. "Tell your readers not to buy it on pay-per-view on May 3! Boycott the fight!"
But as far as Pacquiao-Mayweather is concerned, Arum said, "We're prepared to sit down with his people anytime and work out the conditions for the fight." When it was brought up again, later on, Arum yelled, "All they have to do is pick up the friggin' phone!"
The public, meanwhile, continues to hope, Mayweather-Pacquiao falling somewhere between unicorn sightings and world peace.
In other words, the lines are open, but the telephones ain't ringing.
Around the Web