GEORGETOWN, Guyana, CMC– The New Guyana Pharmaceutical Corporation Incorporated (NEW GPC INC), under its popular Limacol brand, has renewed its sponsorship of the Caribbean Premier League T20 tournament.
Limacol was title sponsor if the inaugural CPL played to an audience of over 250,000 spectators attending matches across Antigua and Barbuda, Barbados, Guyana, Jamaica, Trinidad and Tobago and St Lucia.
"It's great to have Limacol on board again," declared Damien O'Donohoe, CEO, Caribbean Premier League.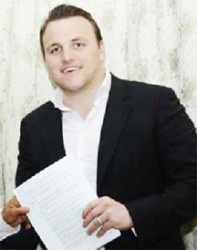 "It recognised the potential of the CPL in our early days, and after the success of our inaugural competition, we're looking forward to working with Limacol again to further develop our brand."
Global stars including Chris Gayle, Kieron Pollard, Ricky Ponting and Muttiah Muralitharan took part in the first tournament where franchise team shareholders included Hollywood stars, Mark Wahlberg and Gerard Butler.
Organisers say they are anticipating a bigger event this year with the Caribbean's finest players set to be joined by cricketing superstars such as Kevin Pietersen and Mohammad Hafeez.
"We are delighted to be on board as CPL title sponsor for a second year. The Limacol CPL was the most exciting thing the region has ever seen in terms of sports and entertainment and we wanted it to be here to stay so we took the decision to invest," said Dr Ranjitsingh Ramroop Chairman, NEW GPC (Limacol).
"The event is Caribbean at heart, but with global aspirations. In that sense, it mirrors Limacol's own vision – to be a world-class Caribbean brand that also captivates the world."
The Limacol Caribbean Premier League returns in July and August when Jamaica Tallawahs will defend their title against the St Lucia Zouks, Trinidad & Tobago Red Steel, Antigua Hawksbills, Guyana Amazon Warriors and Barbados Tridents.
Around the Web