The first quarter of the 2014 cycling season came and went just as swiftly as some of the times Guyana's premier wheelsmen laid down on the open roads and in the inner circuit of the National Park.
There were 12 successful events organized by Hassan Mohamed over the past three months. This figure trumps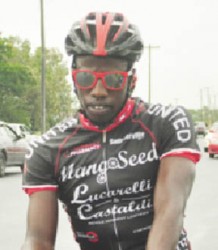 the amount of races organized by any other nation in the Caribbean said MOhammed.
There were six road races and six programmes held on National Park Circuit.
"I know what we did for the first quarter is good," said Mohamed who is in his 38th year of staging events.
Statistics
The most consistent cyclist in terms of wins for the season has been 2012's National Road Race champion, Orville Hinds.
Hinds, a national rider, has won four events so far while placing second in two. He also finished third in another.
The Team United standout also recorded the fastest time for a 35-lap event this year. He stopped the clock in a scorching one hour, 14 minutes and 45 seconds when we won the feature event of the Diamond Mineral Water meet in mid-March.
Mohamed organized 42 events for the 2013 season and is on pace to surpassed that.
When the calendar flipped to 2014, as customary, Ricks and Sari Agro Industries partnered with Mohamed and sponsored their 21st annual event. It was won by Marlon 'Fishy' Williams in one hour, 17 minutes and nine seconds.
Star Party Rentals and Caribbean International Distributors Inc. (CIDI) were first time sponsors for events organized by Mohamed in the first quarter. Both entities sponsored an 11-race program me in the National Park.
Other corporate support came from Demerara Distillers Limited, The National Sports Commission, R&R International, Universal Auto Sales and Banks DIH Limited.
Looking Ahead
The second quarter of the season will be highlighted with the 32nd edition of the three-stage road race from May 17-18.
According to Mohamed however, "I will be organizing road races and Park races before and after that."
Cyclists take note.
Around the Web