Guyana won two gold medals on day one of the 43rd Carifta Games yesterday at the Pierre Aliker Municipal Stadium in Fort-de-France, Martinique.
Cassey George secured the first gold in the U-18 girls 1500m final while US based Kadecia Baird snared the second in the U-20 girls 400m event.
George clocked 4:40.40s ahead of Kyra Scraders (Bermuda) 4:43.30s and Britnie Dixon (Jamaica) 4:53.84s to repeat as champion of the event after winning last year in 4:36.67s.
Scraders and Dixon also were second and third last year in the Bahamas.
There were heavy winds at the stadium according to reports out of the French island.
Baird, who placed third in the race last year clocked a blistering 53.84s to finish atop the podium. The CAC gold medalist and 2012 IAAF World Junior Championships silver medalist finished ahead of Jamaicans Dawnalee Loney (53.90s) and Yanique McNeil (54.49s).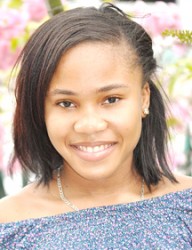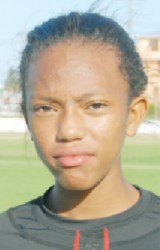 Jason Yaw, last year's bronze medalist in the U-18 boys 400m, failed to step foot on the podium this year after placing fourth in the final of the event. Yaw stopped the clock in 48.47s. Jamaica's Martin Manley (47.47s) grabbed gold in the event one second faster.
Another quarter miler, Jevina Sampson also failed to make the podium in her first appearance at the annual event. Sampson placed sixth in the final in 55.68s. Barbados' Sada Williams won the gold in 53.39s.
Avon Samuels, who placed third in her heat in 57.69s did not make it to the final of the U-18 girls 400m.
In other results yesterday, Kevin Abbensetts crashed out of medal contention after placing fourth in the qualifying rounds of the U-20 Boys 100m. He clocked a pedestrian 10.91s. After placing third in the U-20 girls 100m semis in 11.57s, US-based Brenessa Thompson clocked 11.62 and finished sixth in the final.
Day Two (today), will see Yaw (200m heats) George (3000m final), Abbensetts (200m heats), Baird (200m heats), Sampson (200m heats), Samuels (200m heats), Thompson (200m heats) and triple and long jumper, Kade Pearce in action.
The CARIFTA Games is being held from April 19 to 21.
Meanwhile, the competition, which started in 1972, last year passed a resolution to change the lower age limit from Under-17 to Under-18. The upper age limit remains at Under-20.
It is expected that 27 teams will be represented, headed by Jamaica, Trinidad and Tobago, Bahamas, Guyana among others.
This year's CARIFTA Games has been approved by the IAAF as a qualifying Meet for the Youth Olympic Games to be staged in Nanjing, China in August.
Around the Web