The Guyana Boxing Association (GBA) will kick start its local season with the annual Novices Championship on May 2-3.
According to president of the association, Steve Ninvalle, yesterday "We have identified the East Ruimveldt Community Centre ground (California Square) for this activity."
Expounding on the choice of venue, Ninvalle noted that "The reason we are going there is because we have said before that we want to take boxing to the people and this is one way of doing that.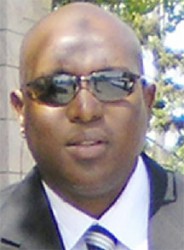 We have written to the Mayor and Town Council for permission to use there and we got the green light."
Ninvalle also revealed that "We have invited the New Opportunity Corps (NOC) to participate in the Championship."
He pointed out that the NOC has not participated in any organized competition under the auspices of the GBA for more than a decade.
"It's part of the resuscitation of the sport not only for the NOC but also in Essequibo" said Ninvalle.
In closing, the GBA head added "We expect a lot of boxers at the championship."
Notes: The GBA had boxers participating in Goodwill Games which were hosted here and in St. Lucia's as well as the South American Games in Chile.
Around the Web