-management plans on sending him overseas to prepare for world title fight….
While many are out flying kites, Clive 'The Punisher' Atwell is hard at work at the Andrew Sixhead Lewis Gym with aspirations of rising above WBC world featherweight titlist, Jhonny Gonzalez.
However, Atwell's training days at the gym are numbered.
According to the undefeated fighting pride of Guyana 12(7)-0-1, his management, Dog Pound Inc., is looking to shift his training base to the United States and then Mexico.
Moving his training camp further north should come as great news since it will maximize his chances of defeating the Mexican knockout specialist 55(47)-8-0 who he is scheduled to face on May 24 in Acapulco, Guerrero, Mexico.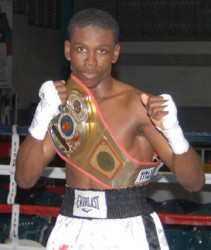 "Right now as you know the fight against Jhonny Gonzalez has the green light" the the national featherweight, lightweight and WBC CABOFE featherweight and light welterweight title holder told Stabroek Sport yesterday.
"We are working for me to fly out as soon as the first week in May to have  short stints in the US and in Mexico to acclimatize to the conditions."
He added "Not taking away anything from my sparring partners in Guyana, we have an abundance of raw talent, but in the more developed world,they have embraced science and technology a great deal and you see the results from them embracing those with raw talent."
The 25-year disclosed that he will be training at the world famous Gleason Gym in Brooklyn, NewYork for what will be his first professional bout on foreign soil.
"Management is in communication with some Guyanese there like Patrick Forde, Dillon Carew and these guys to assist us as we go up there.
Seon Bristol also offered his assistance to management where necessary" the 'Punisher' who was dripping with sweat said after a two-hour workout under the watchful eyes of trainer Lennox Daniels.
Despite being a heavy underdog, Atwell is training like a true champion.
"Training is tremendous, I train three times a day.
My body is still turning over to the point where it will become effective."
He continued "To be honest there is still a lot going on mentally that I need to find a way to overcome. Guyana needs to lend more support to its athletes, I'm still battling with some issues but I trust that come fight time my mind and body will have a total turn over, I'm a man of faith so I'm working by faith." (Emmerson Campbell)
Comments

Ladies and gentlemen it's Showtime. All of the boxers on the six-fight 'Bad Blood' (Sangre Malo) card scheduled for tonight at the Cliff Anderson Sports Hall cleared their final hurdle yesterday by making weight in their respective weight classes.

Stumps on day two of Guyana's Jaguar's final round clash against the Trinidad and Tobago Red Force ended on a bittersweet note for young sensation, Sherfane Rutherford who fell agonizingly short of his maiden first-class century at the Guyana National Stadium, Providence yesterday.

LONDON, CMC – Under-fire West Indies Under-19s and their embattled captain, Emmanuel Stewart, have found backing from the historic Marylebone Cricket Club, in the controversial 'obstructing the field' dismissal of South African opener Jiveshan Pillay, during their ICC Youth World Cup match last Wednesday.

BRIDGETOWN, Barbados, Jan 19, CMC – Barbados Pride pace quartet of Chemar Holder, Keon Harding, Justin Greaves and Dominic Drakes brought to life a pedestrian day with hostile bowling in the final hour to put Jamaica Scorpions on the back-foot in the Regional 4-Day Championship on Friday here.

BASSETERRE, St Kitts, CMC – Devon Smith's bid at history proved anticlamatic when he suffered the indiginity of a one-ball 'duck' on the opening day of Windward Islands Volcanoes' final round match against Leeward Islands Hurricanes here Thursday.