-says GHB president Philip Fernandes
Guyana Hockey Board (GHB) President Phillip Fernandes says that the recent Pan American Hockey Federation Indoor Cup success of the national men's side is the greatest indoor accomplishment Guyana has achieved at the international level.
Speaking in an exclusive interview following Guyana's bronze medal showing at the 2014 Indoor Pan American Hockey Federation (PAHF) Cup in Uruguay, Fernandes said: "The Guyana Men's hockey team pulled of a very difficult feat in securing bronze medal in the PAHF Indoor Cup.
"Guyana suffers mostly from a lack of facilities on which the sport can be played in Guyana which has kept our numbers at modest amounts and also severely restricts our ability to prepare as thoroughly as our opposition.
"I doubt that anyone in the Pan American circles gave Guyana much of a chance to medal in this tournament. Given the circumstances of training and the fact that Guyana's previous highest placement in this competition was 5th in 2010, this has been a very successful endeavor which has made us all proud," added Fernandes.
According to Fernandes "Success always raises the profile of any discipline. I think that our athletes and administration sometimes feel that we are incapable of competing successfully at the international level when we see the gross discrepancies in what is available overseas compared to what we have here in terms of funding and facilities."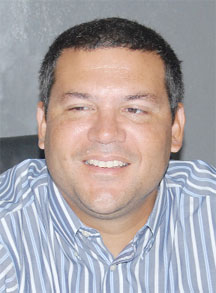 He further stated "However, we have talented and dedicated athletes and coaches who have not allowed this to stand in their way. I have received word that Guyana has been included in discussions among the hierarchy of the PAHF resulting from this recent success and that of the women's team over the past few years.
"We are hopeful that since Guyana has shown that it can produce good results in the current circumstances that some sort of funding can finally be obtained to lay down an artificial pitch for hockey. We anticipate the game to grow in numbers in the coming years due to the strong junior development programmes of the clubs and the international success that hockey has been having," added Fernandes.
Questioned how the GHB will build this recent achievement, Fernandes said "We are hopeful that, in the case of this men's team, we can keep a core of these players and some others who would have been on the training squad together so that they can continue their training in an effort to repeat and improve on this performance in the years to come."
Phillips further said "We have a strong indoor club competition which is the Diamond Mineral Water International Indoor Hockey Festival held here in Guyana every December and that can expose our local players to top regional competition at least once per year without the heavy cost of travel".
"It is important at this time to also continue exposing our players to regular international competition as this is vital to maintaining a high level of performance and evolving with new concepts of the game. This will require a great deal of consistent funding which is always a challenge for an amateur sport," said Fernandes.
According to Fernandes "At the moment, based on the video of the matches, I think our team finished in a fair position in the tournament. This means they were better than some but not better than all. The disparity going forward dwells in the fact that nations like Argentina and Uruguay will have professional coaches, they will travel more frequently for training matches and international competition and they will have facilities which are available to them more frequently than ours are to our players".
He declared "This gives them a much better chance of being successful when they face Guyana in the future. Our players and coaching staff are well aware of this disparity and so we try to infuse a strong sense of national pride and individual commitment to their preparation.
"So it is possible to sustain this level of accomplishment although the odds are stacked against us. The conditions have always been the same and we have managed success and so as long as we can keep the level of commitment as high as it has been so far, the talent of our players and their commitment along with that of the coaching staff can continue to produce results," added GHB boss.
Guyana claimed the bronze medal following a pulsating 2-1 penalty shoot-out victory over South American giants Argentina after normal time finished 2-2.
During the group stages, the local side had defeated Argentina 5-3 whilst also overcoming the tourney hosts 5-1. However, Guyana would go down to eventually tourney winners Canada 6-0 and to the runners-up USA 7-4 in their other two matches.
Around the Web