Elle's Vision captured a wire-to-wire victory at the Port Mourant Turf Club to win the feature event of the 2014 Guyana Cup Fever justifying the favourite tag given at the start of the race.
On the breezy Easter Sunday afternoon at the packed venue, the six year-old mare sent the turfites' excitement high as kites, as she galloped across the finish line ahead of 10 other horses in the C2 and Lower one-mile event.
The victory was worth $2M and large trophy.
The duo of horse and jockey, Paul Delph flew down the track at a break-neck pace from start to finish, showing elite speed that bodes well for the upcoming horse race meets. CP Got Even ($1M) Treacle ($500,000) and California Strike ($250,000) were the steeds that placed second, third and fourth respectively.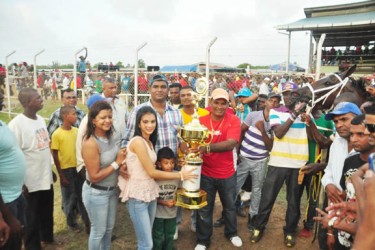 Go To Go and Elle's Vision set the pace from the break with California Strike, CP Got Even, Treacle and others lurking.  Elle's Vision soon changed gears and never relented to win her first event of the season.
Note: Elle's Vision is also the two-time winner of the annual Guyana Cup which is staged in August.
In the co-feature, Three year-old Guyana and West Indian Bred six-furlong race, Unsettled ridden by champion jockey Richmond surged ahead on the homestretch and claimed the $1M first prize that was up for grabs.
Today Is My Day, Shooting Star and Quiet Dancer filled out the top four respectively.
Quick results 
Race 1) F1 and Lower
Swing Easy, Appealing Harvest, Captain Crook
Race 2) I2 and Lower-MaryAnn Want Revenge, DE Gump, Smarty Light
Race 3) G3 and Lower-Rosetta, Settling Jet, Another Jet, Bridalstone Corner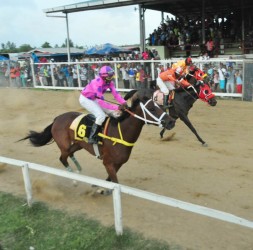 Race 4) J2 and Lower-Affinity, Windy Killer, Princess Bayaya, Speed Vision
Race 5) Four Year old Guyana and West Indian Open-Goodwill Boy, Princess Alisha, It's My Turn
Race 6) H1 and Lower- Silent Night, Cat Messiah, She's So Special
The next horse race event is scheduled for May 18 at the Kennard Memorial Turf Club.
Music was provided by Slingerz Family. (Emmerson Campbell)
Around the Web