BRIDGETOWN, Barbados, CMC – An unbroken, half-century third-wicket stand between Jermaine Blackwood and Andre McCarthy put Jamaica within sight of victory and overshadowed Jonathan Carter's second first-class hundred, in the Headley/Weekes Trophy semi-final here yesterday.
Blackwood was not out on 53 and McCarthy was not out on 41, as the Jamaicans reached 106 for two in their second innings at the close on third day of the match at Kensington Oval, still 61 adrift of victory.
The pair has so far added 86 in an unbroken third wicket partnership to put the visitors firmly on track for a win that would give them a place in the Final of the tournament against Windward Islands.
The Final is scheduled to start on Saturday and the venue is likely to be the Beausejour Cricket Ground in St. Lucia, once the Jamaicans complete victory.
Carter hit 111 and was the rock upon which Barbados built their second innings total of 223. He struck eight fours and one six from 167 balls in close to four hours.
The 26-year-old left-hander reached his hundred from 150 balls, when he drove Jerome Taylor to mid-off for a single.
He added 60 for the third wicket with Barbados captain Kraigg Brathwaite, and shared valuable stands of 49 with Shane Dowrich and 32 with Carlos Brathwaite.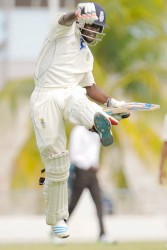 Kraigg Brathwaite made 32, Shai Hope got 22 and Dowrich 20, as the only other Barbadian batsman to pass 20. Taylor was the pick of the Jamaica bowlers with three for 37 from 14.3 overs, left-arm spinner Nikita Miller grabbed three for 52 from 17 overs, left-arm fast bowler Sheldon Cottrell bagged two for 31 from 12 overs and leg-spinner Damion Jacobs snared two for 50 from 13 overs.
Jamaica then lost Nkrumah Bonner in the second over, when he was caught at second slip for a duck off beanpole left-arm spinner Sulieman Benn (2-46), who also had John Campbell caught at mid-on for 10, leaving Jamaica 20 for two.
But McCarthy came to the crease and with Blackwood played an attractive array of strokes to advance the Jamaicans' position.
McCarthy was fortunate on two, when Ashley Nurse put him down at first slip off Benn, a chance for which the Barbadians paid dearly.
Blackwood, striking the ball crisply, started with a lofted straight six off Benn and reached his 50 from 71 balls with an exquisite back-foot drive through extra cover off Miguel Cummins.
Earlier, Barbados were bowled out about half-hour after tea, after they started the day on 18 for one.
The hosts suffered an early setback to their plans of setting Jamaica a challenging total to chase, when Shai Hope was bowled by Taylor for 18 inside the first half-hour, leaving Barbados 40 for two.
Carter came to the crease and with his captain consolidated, but the wicket of Brathwaite in the last 15 minutes before lunch inflicted further damage to Barbados' plans.
Jacobs drew Brathwaite onto the front foot and had him caught at slip, edging a sharply turning delivery.
After lunch, Carter's batting held centre stage, as he gradually got the cobwebs out of his batting. He stroked the ball with crisp assurance, rotating the strike with wristy stroke-play punctuated by the odd big shot.
There was less stability at the other end however, as Kevin Stoute ill-advisedly succumbed to a rush of blood, charged down the pitch at a delivery from Jacobs and was stumped for eight, missing an ugly slog/sweep.
Barbados were 123 for four, but Carter found Dowrich and Carlos Brathwaite more level-headed allies, as he inched his way nearer to his milestone.
Dowrich was caught at slip by Jamaica captain Tamar Lambert off left-arm pacer Sheldon Cottrell for 20, edging a delivery angled across him, two balls after the same fielder dropped him in the same position off the same bowler with a similar delivery. Carter was 79 when Dowrich departed and he duly completed his hundred before Brathwaite was caught at slip off left-arm spinner Nikita Miller for seven from a delivery that bounced awkwardly on the stroke of tea with Barbados on 204 for six.
After tea, the Barbadians tried to add further beef to their total, but steady bowling from the Jamaicans saw the home team's tail subside swiftly, losing their last four wickets for nine in the space of 20 balls.
Scoreboard
BARBADOS 1st Innings 245
JAMAICA 1st Innings 302
BARBADOS 2nd Innings
(overnight 18 for one)
*K. Brathwaite c wkp Baugh b Jacobs                         32
O. Phillips c wkp Baugh b Cottrell                                  2
S. Hope b Taylor                                                             22
J. Carter c Jacobs b Miller                                           111
K. Stoute st Baugh b Jacobs                                           8
+S. Dowrich c Lambert b Cottrell                                20
C. Brathwaite c Campbell b Miller                                 7
A. Nurse c Campbell b Miller                                         2
S. Benn c Blackwood b Taylor                                       8
F. Edwards not out                                                         0
M. Cummins c wkp Baugh b Taylor                            0
Extras (b4, lb1, w2, nb4)                                             11
TOTAL (all out, 69.3 overs)                                       223
Fall of wickets: 1-10, 2-40, 3-100, 4-123, 5-172, 6-204, 7-214, 8-223, 9-223, 10-233.
Bowling: Taylor 14.3-1-37-3 (nb1); Cottrell 12-0-31-2 (w1); Miller 17-0-52-3; Bernard 6-2-17-0 (w1); Blackwood 2-0-12-0; Jacobs 13-1-50-2 (nb3); Campbell 2-0-5-0; Lambert 3-0-14-0
JAMAICA 2nd Innings (target: 167)
N. Bonner c Carter b Benn                                             0
J. Campbell c C. Brathwaite b Benn                            10
J. Blackwood not out                                                      53
A. McCarthy not out                                                       41
Extras (nb2)                                                                      2
TOTAL (2 wkts, 25 overs)                                           106
Fall of wickets: 1-1, 2-20.
Bowling: Edwards 3-1-9-0; Benn 10-0-46-2; Nurse 5-0-29-0; C. Brathwaite 2-0-3-0; Carter 2-0-9-0; Cummins 2-0-9-0 (nb2); K. Brathwaite 1-0-1-0
Position: Jamaica need 61 more to win with eight second innings wickets standing
Umpires: P. Nero, J. Wilson
Around the Web