NEW YORK, (Reuters) – The New York Knicks fired head coach Mike Woodson yesterday as new president Phil Jackson made the first big move to put his stamp on the National Basketball Association team.
Jackson, hired last month to turn around the struggling franchise, said in a statement that the entire coaching staff had been relieved of their duties.
"I have a tremendous amount of respect for Mike Woodson and his entire staff," said Jackson, who won a record 11 NBA titles as head coach of the Chicago Bulls and Los Angeles Lakers in the previous two decades.
"The coaches and players on this team had an extremely difficult 2013-14 season, and blame should not be put on one individual.
"But the time has come for change throughout the franchise as we start the journey to assess and build this team for next season and beyond."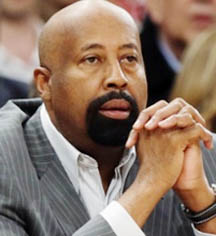 Despite a late surge in which the Knicks won 16 of their last 21 games, New York finished the season with a 37-45 record and missed the playoffs by one game after winning the division title last year and reaching the Eastern Conference semi-finals.
In parts of three seasons with the Knicks, Woodson compiled an overall record of 109-79 that included two consecutive NBA playoff appearances and the team's first Atlantic Division title in 19 years.
Woodson, 56, formerly coached six seasons with the Atlanta Hawks and has a career head coaching record of 315-365.
The search for a new coaching staff will begin immediately, the team said.
Jackson, 68, was officially appointed in March as the Knicks president in his first NBA front office job and vowed to help restore a winning culture to the franchise.
Before turning to coaching, Jackson won two NBA titles with the Knicks as a player in the early 1970s, the last time the franchise has won the championship.
Steve Kerr, who won three titles as a player under Jackson with the Bulls and serves as a TV broadcast analyst, has been widely mentioned as a possible choice by Jackson to steer the team although he has no head coaching experience.
MORE CHANGES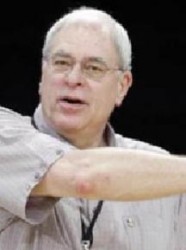 Jackson had vowed to make changes to the roster during a speech to Knicks players following the last regular season game on Wednesday against the Toronto Raptors.
"Phil was honest; he said it was a disappointing season," an unnamed Knick player told the New York Daily News. "He told us that there will be changes in the locker room and that not all of us will be back."
One big question mark hanging over the team is the future of their high-scoring forward Carmelo Anthony, who could choose to test the free agent market on July 1.
The seven-time All-Star, who finished second behind Kevin Durant in last season's scoring list with an average of 27.4 points per game, could make considerably more money by remaining should the team offer him a maximum salary.
Under NBA rules, Anthony, who turns 30 next month, can be signed to a five-year contract by the Knicks worth nearly $130 million. If he signs with another team, the maximum he can get is just under $96 million for four years.
The future of many veterans including guards Raymond Felton and Pablo Prigioni, forwards Amar'e Stoudemire and Kenyon Martin, and center Tyson Chandler, along with young swingman Iman Shumpert, remain under a cloud.
Knicks owner James Dolan joined Jackson in addressing the team after the season finale.
"He said we left the fans wanting more," the player told the Daily News about the owner's message. "Mr. Dolan said he was disappointed with how the season played out and that we have to begin working on being a winner again right away.
"He said he wants to be able to say that we're a championship contender next season."
Comments

Guyana Amazon Warriors left a packed house heartbroken after folding to the Jamaican Tallawahs by two runs in a thrilling final over, as they began their home leg of this year's Caribbean Premier league (CPL) with a school boyish display, last evening at the Guyana National Stadium, Providence.

DUBAI, England, CMC – Reigning champions West Indies Under-19s will be part of history, when they kick off their title defence of the ICC Youth World Cup (YWC) against hosts New Zealand Under-19s.

Guyana ended their Group-F campaign in the CONCACAF Boys U15 Championship on a winning note, edging St.

BIRMINGHAM, England, CMC – A day that started brightly ended in typical uncertainty for West Indies, after Alastair Cook and Joe Root plundered hundreds to give England an early hold on the historic first Test on Thursday.
BASSETERRE, St. Kitts, CMC – A strong all-round performance from Javeor Royal propelled Jamaica Under-19s to a four-wicket victory over ICC Americas Under-19s in the Regional One-day youth tournament on Thursday.