—Skipper Devin Munroe says he's proud of team's performance
Captain of the national men's indoor hockey team Devin Munroe yesterday said that he is proud of the team's performance in this year's 2014 Indoor Pan American Cup held in Montevideo, Uruguay which enabled them to acquire the bronze medal, finishing third.
Dubbed the best indoor championship performance by the team after capturing the bronze medal by edging Argentina 2-1 in a penalty shoot-out after a 2-2 score at the end of normal time, Munroe and other members of the squad including senior players Shane Samuels and Aderemi Simon spoke at a simple briefing ceremony since their triumphant return from Uruguay held at the Georgetown Cricket Club (GCC) pavilion.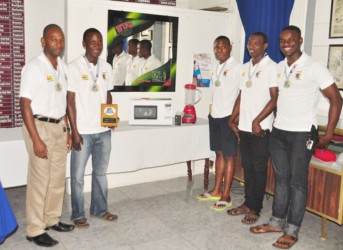 Munroe stated that this performance was the best ever by the male team.
"People didn't expect us to do well, four years ago in Venezuela they won so we trained hard for this tournament so the win was good for us," he said.
He credited the exceptional dribbling, passing and striking exhibited by the players which he believes helped take the team forward in the tournament, especially after entering the tournament at number five and exiting it at number 3, just two places behind powerhouses USA and Canada.
Munroe credited the perseverance surrounding their overcoming of financial challenges ahead of the competition along with their hard work and training as the "driving force" behind the team's success. He explained that in order to make the trip possible they were forced to take out loans in order to facilitate and offset expenses but pointed out that it was that which made the result produced by the team all the more special.
Samuels, during his brief comments, lauded the players for making the squad the youngest side to ever churn out such performances internationally especially with some of them not before the tournament being exposed to a national or international meet. He further pointed out that it was the mixture of experience and youth which made their team a cohesive unit.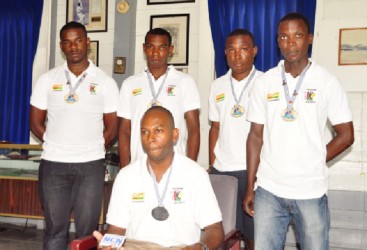 Meanwhile in closing Munro explained that the team will be entering their recommencement of the season with eyes set on the Pan American U-21 competition in two years which he said is a basin for producing the country's next national crop of players and as such will be using the upcoming season to groom and prepare those players for the international exposure.
The Guyana National Hockey Association (GNH) also staged a fund raiser in order to assist their team in travelling to Uruguay and would like the winners to contact them in order to uplift their prizes.
Apart from the local hockey season on the horizon, Guyana will now shift focus towards participating in a four-a-side tourney slated to be held in Canada against teams such as; Canada, Australia and South Africa in October. Munroe and the rest of his team also gave special thanks to sponsors; LIAT, Trans Guyana, Payless Variety Store and Star Party Rental.
Comments

Guyana Amazon Warriors left a packed house heartbroken after folding to the Jamaican Tallawahs by two runs in a thrilling final over, as they began their home leg of this year's Caribbean Premier league (CPL) with a school boyish display, last evening at the Guyana National Stadium, Providence.

DUBAI, England, CMC – Reigning champions West Indies Under-19s will be part of history, when they kick off their title defence of the ICC Youth World Cup (YWC) against hosts New Zealand Under-19s.

Guyana ended their Group-F campaign in the CONCACAF Boys U15 Championship on a winning note, edging St.

BIRMINGHAM, England, CMC – A day that started brightly ended in typical uncertainty for West Indies, after Alastair Cook and Joe Root plundered hundreds to give England an early hold on the historic first Test on Thursday.
BASSETERRE, St. Kitts, CMC – A strong all-round performance from Javeor Royal propelled Jamaica Under-19s to a four-wicket victory over ICC Americas Under-19s in the Regional One-day youth tournament on Thursday.